chinese-
s

tyle pork curry rice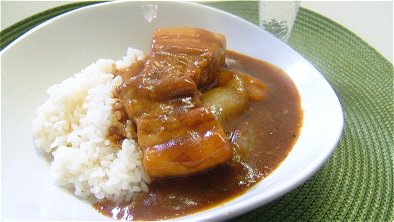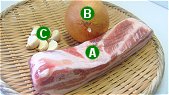 ingredients:
400 g pork tenderloin or belly

450 g onions

6 garlic cloves

solid curry blocks (for 5 servings)
600 ml Chinese soup stock or chicken broth
160 ml water
2 tablespoons salad oil
a little salt
a little pepper
2 tablespoons potato starch (katakuriko)
2 tablespoons water
5 servings steamed rice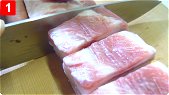 step 1:
Cut the pork into 2.5 cm pieces.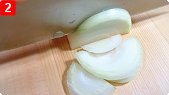 step 2:
Peel the onions and cut in half. Cut each half into 2.5 cm wide slices. Slice the garlic cloves thinly.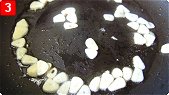 step 3:
Put the salad oil in a pan and add the sliced garlic. Sear on low heat until you smell the odor of them cooking.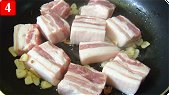 step 4:
Add the pork and sprinkle a little salt and pepper on top. Sear the pork on medium heat until it turns a brownish color.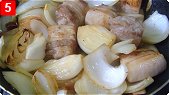 step 5:
Add the onions and sear until they become soft.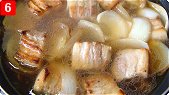 step 6:
Add Chinese soup stock (or chicken broth) and the 160 ml water. Bring to a boil.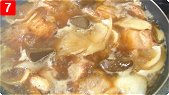 step 7:
Change to low heat. Split apart the solid curry blocks and add. Stir until well mixed and simmer for 5 minutes.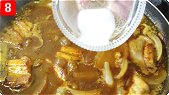 step 8:
Dissolve the potato starch in the 2 tablespoons water. Add the dissolved potato starch to the pan. Stir a few times until it becomes creamy.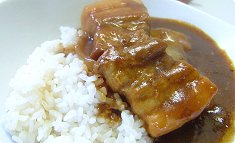 Serve over the steamed rice.
comment:
This dish is easy and quick. The creamy curry sauce suits steamed rice very well and the taste is very delicious. Even though it's called "Chinese-style", it's served only in Chinese restaurants in Japan.



Japanese foods recipes
Int'l. recipes with a Japanese twist