miyazaki-
s

tyle deep-

f

ried chicken

with

sweet & sour sauce
Serves: 2
Calories: 583 kcal
Total Time: 30 m
Japanese: Chikin-namban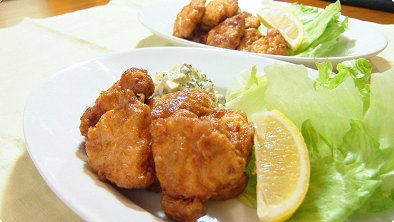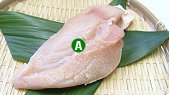 ingredients:
200 g boneless chicken breast or thigh

a little salt
a little pepper
salad oil for deep frying
coating:
1 beaten egg
30 g wheat flour
tartar sauce:
5 tablespoons mayonnaise
1 boiled egg
40 g pickles
10 g parsley
1 teaspoon white wine vinegar or freshly squeezed lemon juice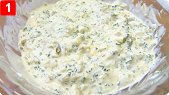 step 1:
Make the tartar sauce. Chop the boiled egg, pickles and parsley. Mix them with the mayonnaise and white wine vinegar (or freshly squeezed lemon juice) in a bowl.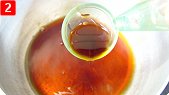 step 2:
Make the sweet & sour sauce. Put the vinegar, soy sauce and sugar in a pan, and bring to a boil. Remove from the heat.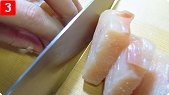 step 3:
Remove the skin of the chicken and cut into bite-size pieces. Sprinkle with the salt and pepper. Dust them in the flour.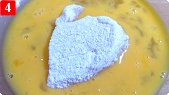 step 4:
Beat the egg in a bowl. Coat the chicken with the egg.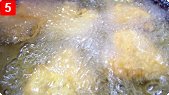 step 5:
Heat the oil to 170 °C and deep-fry the chicken pieces about 5 or 6 minutes until golden brown.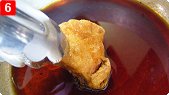 step 6:
Remove and drain. Place the pieces in the sweet & sour sauce and soak for about 1 minute.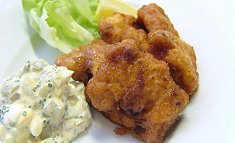 Remove from the sweet & sour sauce and serve the deep-fried chicken with the garnish. Pour tartar sauce beside the deep-fried chicken.
comment:
The unique thing about Miyazaki-style deep-fried chicken is that two kinds of sauces are used. The combination of the deep-fried chicken and the sauces is very delicious! Miyazaki Prefecture is in the Kyūshū region, the southernmost island of mainland Japan.



Japanese foods recipes
Int'l. recipes with a Japanese twist