simmered pork spareribs & shiitake mushrooms
with

soy sauce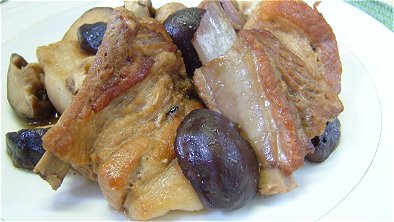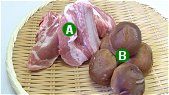 ingredients:
500 g pork spareribs

5 shiitake mushrooms

5 garlic cloves
4 tablespoons soy sauce
3 tablespoons sugar
100 ml sake
600 ml water
1 tablespoon salad oil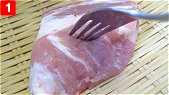 step 1:
Stab both sides of the spareribs 2 or 3 times with a fork. Wipe the shiitake mushrooms with a wet paper towel. Cut off the stems and cut the caps into halves.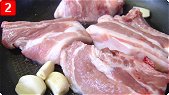 step 2:
Heat the oil in a frying pan over a high flame and sear the spareribs and the whole garlic cloves on each side for a couple of minutes on medium heat. Remove from the heat.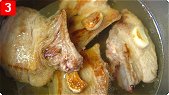 step 3:
Put the spareribs, garlic cloves, sake and water in a pan. Bring to a boil on high flame. Whill still boiling, skim off the surface scum. Then cover, and bring to a boil again. Reduce the heat and simmer for about 40 minutes on low heat.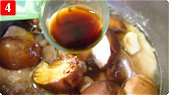 step 4:
Add the shiitake mushrooms, sugar and soy sauce. Simmer for about 25 minutes on low heat.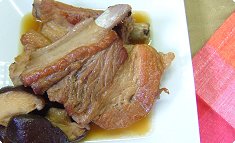 comment:
The umami of the spareribs soaks into the shiitake mushrooms and they become juicy. This dish is very voluminous and satisfying.



Japanese foods recipes
Int'l. recipes with a Japanese twist