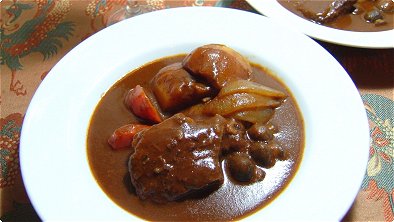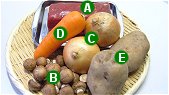 ingredients:
450 g beef for stew

85 g button mushrooms

450 g onions

150 g carrot

450 g potatos

1 1/2 tablespoons wheat flour
360 ml red wine
600 ml beef or chicken soup
1 bay leaf
2 tablespoons tomato paste
285 g demi-glace sauce
1/2 tablespoon red miso
a little salt
a little pepper
2 tablespoons salad oil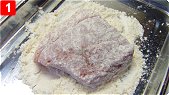 step 1:
Cut the beef into bite-size pieces. Sprinkle with the salt and pepper. Dust with the flour. Peel the onions and cut each onion into 8 sections. Peel the potatoes; cut them into 4 to 6 cubes. Cut the carrot obliquely into 8 pieces.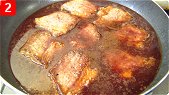 step 2:
Put 1 tablespoon of the salad oil in a frying pan and add the beef. Fry until the color changes and add the wine. Simmer for 10 minutes on medium heat. Remove from the pan and add to a pot. Add the beef or chicken soup and bay leaf. Cover and simmer for 30 to 60 minutes on low heat.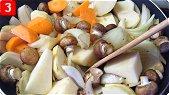 step 3:
Add the remaining salad oil to the frying pan. Add the onion pieces and fry until clear. Add the potatoes, carrot and button mushrooms. Fry for a few minutes.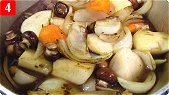 step 4:
Add the fried vegetables and mushrooms and the tomato paste to the pot where the beef is simmering. Simmer for 20 minutes more on low heat.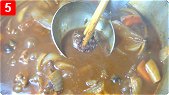 step 5:
Add the demi-glace sauce. Simmer for 10 minutes on low heat. Put some soup into a ladle. Add the red miso and stir with chopsticks until it is dissolved. Stir into the soup. Remove from heat.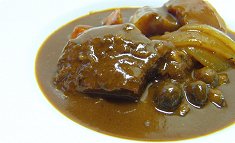 comment:
The combination of demi-glace sauce and red miso is a great taste. This dish is often served in western-style restaurants in Japan.



Japanese foods recipes
Int'l. recipes with a Japanese twist