braised meat & potatoes
Serves: 4
Calories: 329 kcal
Japanese: Niku-jaga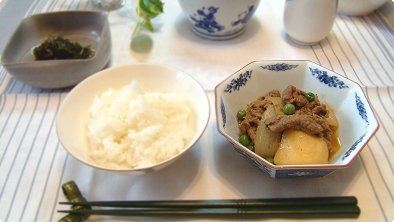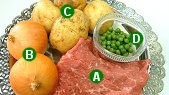 ingredients:
7 ounces thinly sliced beef (veal)

2 big onions

1 1/3 pounds (4 big or 6 small) potatoes

3 tablespoons green peas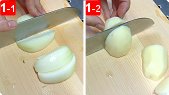 step 1:
Slice the beef into thin slices. Cut the onions into 8 sections. Cut the potatoes into 6 to 8 pieces.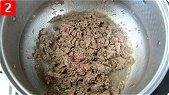 step 2:
Heat salad oil, saute the beef until the color changes.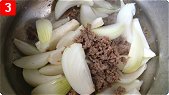 step 3:
Add the onions and fry.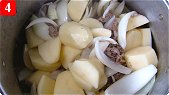 step 4:
Add the potatoes and fry.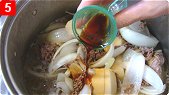 step 5:
Add the water, sugar, sake, mirin, and 2 tablespoons of the soy sauce.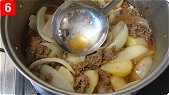 step 6:
Cover and boil on high heat. After boiling, reduce the heat, skim off the surface scum.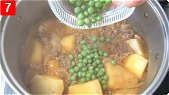 step 7:
Bring to boil again and cook until broth is reduced to half. Add remaining soy sauce. Cover again and boil until broth is reduced to one - third. Add green peas and mix.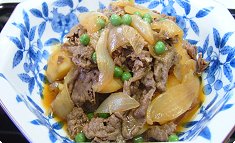 comment:
The taste seeps into the potatoes and beef well. The potatoes will melt in your mouth.



Japanese foods recipes
Int'l. recipes with a Japanese twist