yokkaichi-
s

tyle pork steak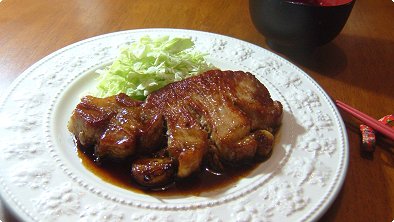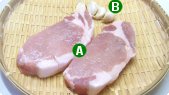 ingredients:
2 pieces (9 ounces each) boneless

pork loin chops

4 garlic cloves

a little salt and pepper
2 tablespoons lard or salad oil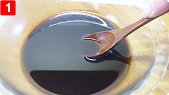 step 1:
Make the sauce in a bowl. Wash the cabbage and shred.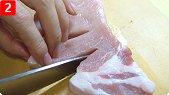 step 2:
Cut each pork loin chop into five 1 in. wide "fingers" by slicing 3/4 of the way up to the edge. Leave the fatty edge intact so that the pork loin looks like a glove. Sprinkle salt and pepper on both sides.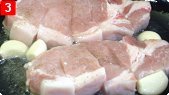 step 3:
Heat the lard (or oil) in a frying pan over a high flame and sear the pork chops with the whole garlic cloves on one side for about 3 minutes.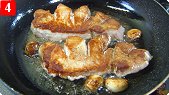 step 4:
After the pork chops change color, sear the opposite side for about 3 minutes.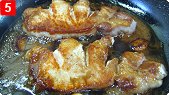 step 5:
Lower the flame to medium and add the sauce. Cover and simmer for about 2 minutes.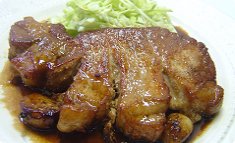 Serve with the shredded cabbage.
comment:
Yokkaichi-style pork steak is a substantial dish and very delicious. It is a speciality of Yokkaichi City in Mie Prefecture and is commonly called "Glove Yaki" ("Seared Pork Steak Glove") because of its resemblance to a glove. It is cut this way to make it easier to eat. Mie is in the Tōkai region, the center of Japan.



Japanese foods recipes
Int'l. recipes with a Japanese twist