deep-
f

ried breaded beef cutlets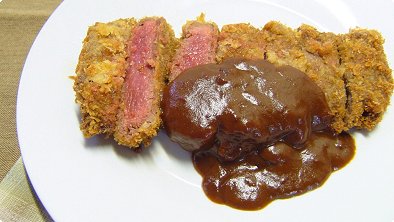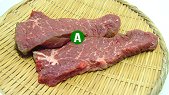 ingredients:
21 ounces boneless steaks

a little salt
a little pepper
oil for deep frying
batter:
1 ounce flour
1 egg
1 3/4 ounces bread crumbs
two types
of

sauces:
Sauce #1:
5 ounces demi-glace sauce
1/4 cup red wine
1/2 teaspoon salt
Sauce #2:
suitable amount Worcestershire sauce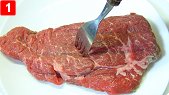 step 1:
Stab both sides of the steaks 5 or 6 times with a fork. Sprinkle the little salt and pepper on both sides.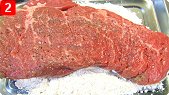 step 2:
Lightly coat the steaks with the flour in a pan.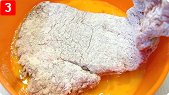 step 3:
Beat the egg in a bowl and coat the steaks with the egg.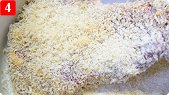 step 4:
Then coat well with the bread crumbs in a separate pan.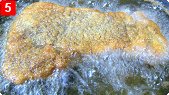 step 5:
Heat the oil to 340 °F and deep-fry the steaks on each side 2 minutes until golden brown. Remove and drain on a rack.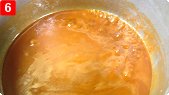 step 6:
When using Sauce #1, pour the red wine in a pot and bring to a boil. Add the demi-glace sauce and salt. Boil for a couple of minutes.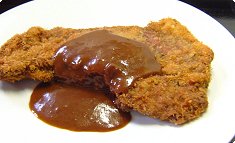 Pour the Sauce #1 or Sauce #2 over the cutlets and serve.
comment:
Either demi-glace sauce or Worcestershire sauce suits the beef cutlets. Tonkatsu (using pork) is the most popular breaded cutlets dish in Japan. However, this beef katsuretsu dish is popular in the Kansai area (Osaka, Kyoto, Nara, Hyōgo, Shiga and Wakayama prefectures).



Japanese foods recipes
Int'l. recipes with a Japanese twist