curry & demi-glace sauce
with

rice
Serves: 4
Calories: 593 kcal
Total Time: 2 h 0 m

Prep: 1 h 20 m
Cook: 40 m

Japanese: Demi-karē-raisu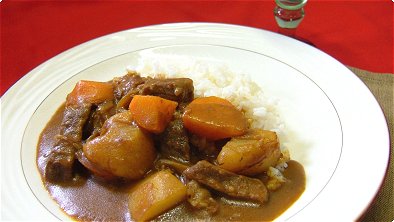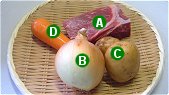 ingredients:
12 ounces beef

10 1/2 ounces onions

8 ounces potatoes

4 ounces carrot

2 tablespoons curry powder
5 ounces demi-glace sauce
3 tablespoons flour
2 1/2 cups water
2 tablespoons salad oil
1 1/2 teaspoons salt
4 servings steamed rice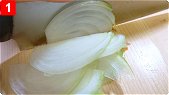 step 1:
Slice the onions thinly. Peel the potatoes; cut them into 4 to 6 cubes. Cut the carrot obliquely. Cut the beef into bite-size pieces.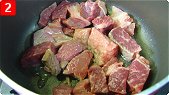 step 2:
Heat 1 tablespoon of the salad oil in a pan and add the beef.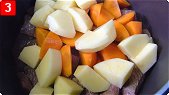 step 3:
After the beef is cooked, add the potatoes and carrot pieces. Fry for a few minutes.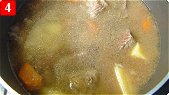 step 4:
Add the water. Boil for 20 minutes on medium heat.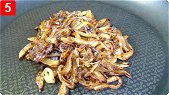 step 5:
Heat 1 tablespoon of the salad oil in a frying pan. Fry the onions until they turn a brownish color.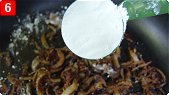 step 6:
Add the flour 1 tablespoon at a time, stir-frying over a low flame after each addition.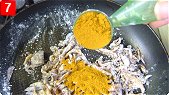 step 7:
Remove from heat. Add the curry powder and mix.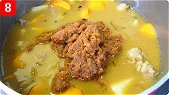 step 8:
Add the curried onions (Step 7) to the beef and vegetable mixture (Step 4). Add the demi-glace sauce and the salt. Stir and boil for 10 minutes over a low flame.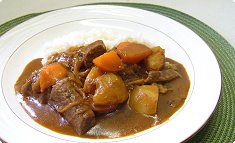 Serve over the steamed rice.
comment:
This curry and rice is not very spicy because the demi-glace sauce masks the spiciness of the curry. Even people who do not like spicy dishes will enjoy this one.



Japanese foods recipes
Int'l. recipes with a Japanese twist