japanese-
s

tyle pancakes
Serves: 2
Calories: 563 kcal
Total Time: 40 m
Japanese: Okonomi-yaki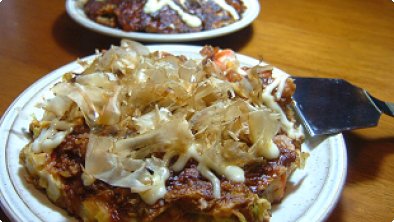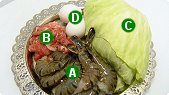 ingredients:
16 shrimps

4 ounces thinly sliced pork or beef

7 ounces cabbage

2 eggs

2/3 cup all-purpose flour or cake flour
2/3 cup bonito soup stock or water
2 teaspoons oil
suitable amount mayonnaise (optional)
suitable amount bonito flakes (optional)
sauce:
3 tablespoons ketchup
3 tablespoons Worcestershire sauce
3 1/2 teaspoons honey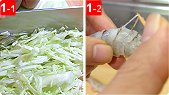 step 1:
Cut the cabbage into julienne slices. Slice the meat into thin slices. Hull shell, remove tail and devein the shrimps.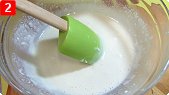 step 2:
Mix the flour and cold water or bonito soup stock.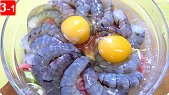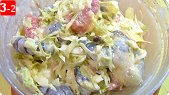 step 3:
Add the cabbage, the shrimps, the meat and eggs. Mix for only 1 minute because otherwise the batter will become too hard when cooked.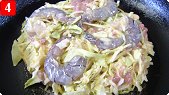 step 4:
Heat a medium-size frying pan on medium heat. Add the oil. Add half of the mixture (Step 3). Arrange in a circle about 1 in. high. Bake on medium heat about 8 minutes. Don't push with a spatula because that will make the okonomiyaki hard.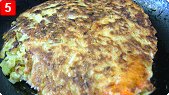 step 5:
Turn with a spatula and bake the other side on medium heat about 8 minutes.
step 6:
To make the sauce, mix the ketchup, Worcestershire sauce and honey.
step 7:
Coat the pancake with the sauce. If you like, spread mayonnaise and sprinkle bonito flakes on top. Remove from the pan.
step 8:
To make the second pancake, repeat Steps 4, 5 and 7.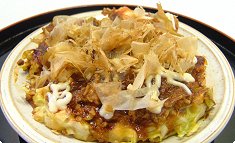 comment:
This recipe is Kansai style okonomiyaki. Kansai includes Osaka, Kyoto, Nara, Hyōgo, Shiga and Wakayama prefectures. This okonomiyaki is soft and delicious.
history:
The origin of this dish is Fuyaki which the tea ceremony master Rikyu Senno ordered to be served as teacakes during tea ceremonies in the Azuchi-momoyama Era (1568-1603). Fuyaki was a thin Japanese cake made from a mixture of flour and water, with sugar and miso sometimes on top.



Japanese foods recipes
Int'l. recipes with a Japanese twist