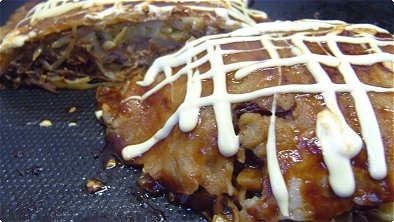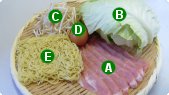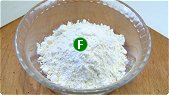 ingredients:
4 ounces thinly sliced pork

6 ounces cabbage

3 1/2 ounces bean sprouts

1 egg

1 package or 6 ounces fried noodles

2 ounces all-purpose flour or cake flour

1/2 cup bonito soup stock or water
2 tablespoons oil
suitable amount bonito flakes (optional)
suitable amount mayonnaise (optional)
sauce:
3 tablespoons ketchup
3 tablespoons Worcestershire sauce
3 1/2 teaspoons honey
cooking gadget:
19 in. x 12 in. portable electric griddle or 2 frying pans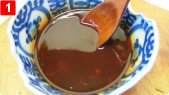 step 1:
To make the sauce, mix the ketchup, Worcestershire sauce and honey.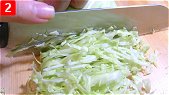 step 2:
Cut the cabbage into julienne slices. Slice the meat into thin slices.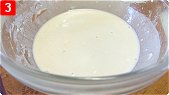 step 3:
Mix the flour and cold water or bonito soup stock.
step 4:
Warm the electric griddle to medium, or heat one frying pan on medium heat. Add 1 tablespoon of the oil. Pour in the mixture (Step 3) and spread into a crepe shape.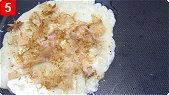 step 5:
If using bonito flakes, sprinkle them on top.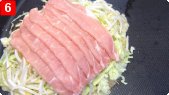 step 6:
Add the cabbage, bean sprouts and pork.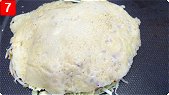 step 7:
Turn with a spatula and cook the other side about 10 minutes.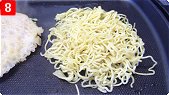 step 8:
Heat the remainig tablespoon of oil next to the pancake on the electric griddle or in another frying pan. Add the fried noodles. Saute and stir them on medium flame for 2 minutes.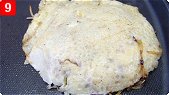 step 9:
Place the pancake over the noodles and press with a spatula.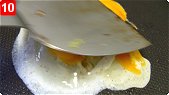 step 10:
Fry the egg next to the pancake and noodles or in the vacant frying pan. Beat the egg and spread it out thinly.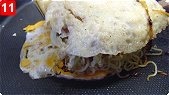 step 11:
Place the pancake and noodles over the egg.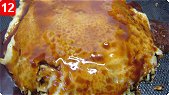 step 12:
Coat the pancake with the sauce. If you like, spread mayonnaise over the top. Remove from the pan.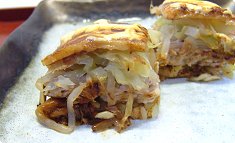 comment:
This okonomiyaki is unexpectedly healthy and is delicious because it uses a lot of cabbage, and is well-balanced because meat and noodles are eaten at the same time. It is very popular in Hiroshima.



Japanese foods recipes
Int'l. recipes with a Japanese twist