dumplings soup
Serves: 2
Calories: 98 kcal
Total Time: 1 h 30 m

Prep: 1 h 20 m
Cook: 10 m

Japanese: Gyōza-sūpu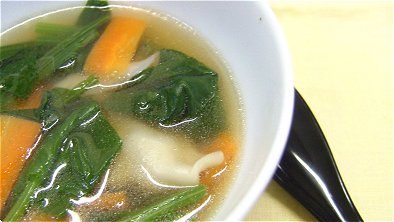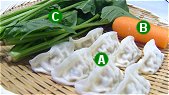 ingredients:
8 dumplings (See Step 1 to Step 5 of

2 ounces carrot

3 ounces spinach

3 1/3 cups chicken broth or soup stock
1/2 tablespoon soy sauce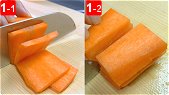 step 1:
Cut the carrot in half. Slice the carrot as shown in the pictures. Cut off the stems of the spinach and cut into about 2 in. wide pieces.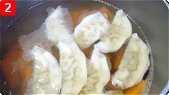 step 2:
Prepare the stock in a pot. Bring to a boil and add the dumplings and carrot. Cover and cook on medium heat for about 4 minutes.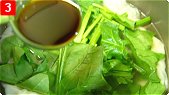 step 3:
Add the spinach and soy sauce and cook for about 2 minutes. Remove from the heat.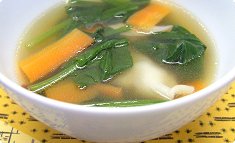 comment:
The dumplings suit carrot and spinach well in this delicious and simple dish. Because it is light, you can eat a lot.



Japanese foods recipes
Int'l. recipes with a Japanese twist