deep-
f

ried cheese dumplings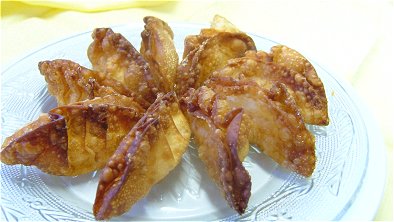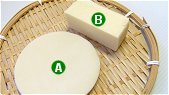 ingredients:
2 1/2 ounces Gouda cheese

a little water for joining wrapper
salad oil for deep frying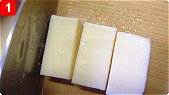 step 1:
Cut the cheese into a 12 bite-size pieces.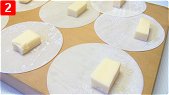 step 2:
If fresh dumpling wrappers are not easily available, refer to "How to Make Dumpling Wrappers". Place the 12 fresh dumpling wrappers on a large platter. Put a cheese piece on each wrapper.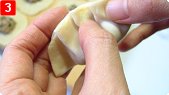 step 3:
Dip a stick or your index finger into the water. Spread the water over the circumference of the wrapper. Fold the wrapper over the cheese and, with your thumbs, make some folds on only one side of the wrapper.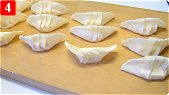 step 4:
This picture shows how the dumplings should look.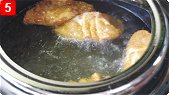 step 5:
Heat the oil to 340 °F and deep-fry the dumplings about 30 seconds until golden brown. Remove and drain on a rack.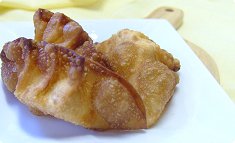 comment:
By deep-frying the dumplings, the wrappers become quite crisp and the cheese inside becomes creamy. They go together very well with beer.



Japanese foods recipes
Int'l. recipes with a Japanese twist