rice soup
with

mushrooms
Serves: 2
Calories: 205 kcal
Total Time: 2 h 0 m

Prep: 1 h 50 m
Cook: 10 m

Japanese: Kinoko-zosui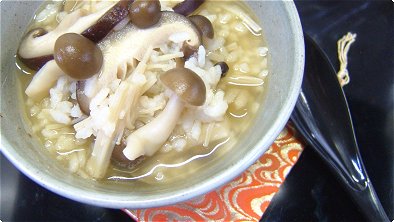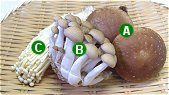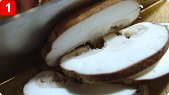 step 1:
Wipe the shiitake mushrooms with a wet paper towel. Cut off the stems and slice the caps. Cut off the roots of the enoki mushrooms 1 in. from the end and cut in half. Cut off the roots of the shimeji mushrooms.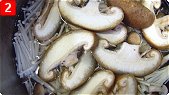 step 2:
Boil the sea tangle soup stock and add the mushrooms. Boil a couple of minutes.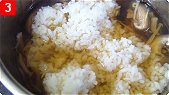 step 3:
Add the salt and soy sauce. Then, mix in the rice. Cover and boil a couple of minutes. Remove from the heat.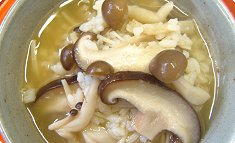 Pour into serving bowls.
comment:
The flavor of mushrooms increases your appetite. In Japan, this soup is often served to people who are ill because it is easily digested and very healthy.



Japanese foods recipes
Int'l. recipes with a Japanese twist