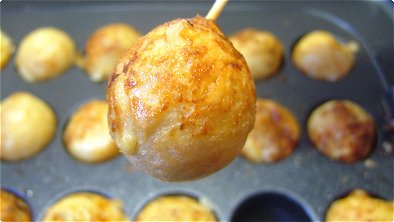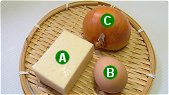 ingredients:
5 ounces Gouda cheese

1 egg

6 ounces onion

4 ounces all-purpose flour or cake flour
2 cups bonito soup stock or water
suitable amount ketchup
2 tablespoons oil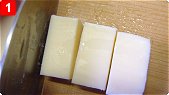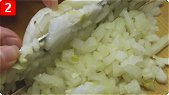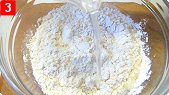 step 3:
Beat the egg in a large bowl. Add the flour and bonito soup stock (or water), and mix very well.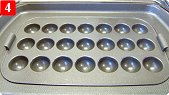 step 4:
Heat an electric takoyaki pan (available on Amazon.com) at 360 °F for 5 minutes.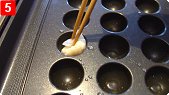 step 5:
Soak a paper towel with the oil. Coat each mold and the entire surface of the pan with it.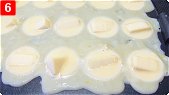 step 6:
Pour the mixture (Step 3) over the entire pan. Add one cheese piece to each mold.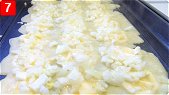 step 7:
Sprinkle the onion over the entire surface of the pan.
step 8:
After the mixture around the molds begins to harden, push it into the molds with a wooden or iron skewer.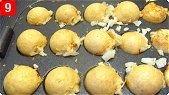 step 9:
Cook about 5 minutes and turn over each cheese dumpling with the skewer.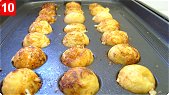 step 10:
Cook the other side for about 5 more minutes.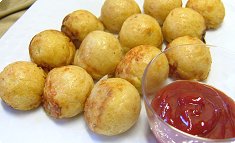 Remove the dumplings from the pan. Pour the ketchup over them.
This recipe is based on a takoyaki pan which has 21 molds. If you use a different size pan, then you must adjust the ingredients accordingly. The cheese in the dumpling melts and has a good taste.



Japanese foods recipes
Int'l. recipes with a Japanese twist