okinawa taco rice
Serves: 2
Calories: 709 kcal
Total Time: 1 h 20 m
Japanese: Tako-raisu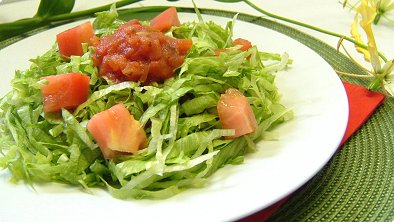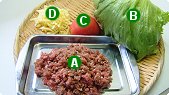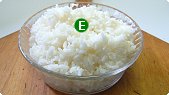 ingredients:
7 ounces ground beef

5 ounces lettuce

1/2 tomato

2 ounces shredded Mozzarella cheese

2 servings (6 1/3 ounces each)

1 garlic clove
1 teaspoon cumin seeds
1 to 2 teaspoons chili powder
1 teaspoon paprika powder
1 to 2 teaspoons salt
1 tablespoon oil
suitable amount salsa sauce
step 1:
Shred the lettuce. Cut the tomato into 1/2 in. cubes. Mince the garlic clove.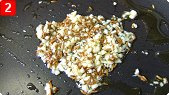 step 2:
Heat the oil in a frying pan. Add the garlic and cumin seeds. Saute on low heat until you smell the odor of them cooking.
step 3:
Add the ground beef and fry on medium heat until done. Mix in the chili powder, paprika powder and salt. Remove from heat.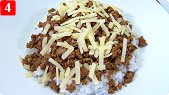 step 4:
Place the rice on two dishes. Decorate with the meat mixture and cheese.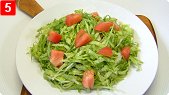 step 5:
Place the lettuce over the meat and cheese. Decorate with the tomatoes.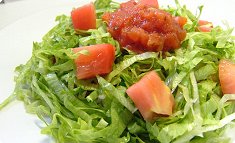 Pour the salsa sauce over the top.
comment:
Tacos were introduced from America to Okinawa in the 1980s by the large American military presence there. This taco recipe substitutes rice for tortilla and has a good taste. Okinawa Prefecture contains many small islands and, being located about 400 miles from the mainland, is the most southwest of prefectures in Japan.



Japanese foods recipes
Int'l. recipes with a Japanese twist