fried dumplings
with

ground pork & shrimp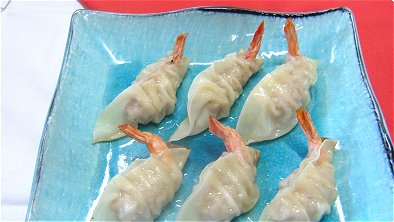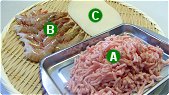 ingredients:
7 ounces ground pork

10 (4 ounces) shrimps

1 teaspoon soy sauce
a little salt
a little pepper
1 tablespoon salad oil
1/4 cup water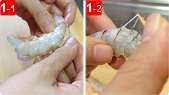 step 1:
Hull shell and devein the shrimp.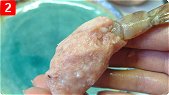 step 2:
Mix the ground pork, soy sauce, salt and pepper very well in a bowl. Divide into 10 parts and wrap each shrimp in the divided meat mixture.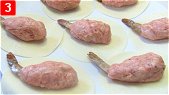 step 3:
If fresh dumpling wrappers are not easily available, refer to "How to Make Dumpling Wrappers". Place the 10 fresh dumpling wrappers on a large platter. Put a meat and shrimp mixture on each wrapper and stick the shrimp tail out of each wrapper.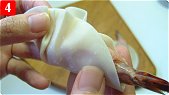 step 4:
Fold each wrapper over the mixture and, with your thumbs, make some folds on only one side of the wrapper.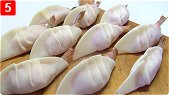 step 5:
This picture shows how the dumplings should look.
step 6:
Pour the salad oil into a frying pan or a portable electric griddle. Place the dumplings into this and gradually pour the water around (not directly over) them.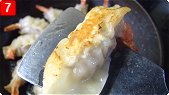 step 7:
Cover and sear over a high flame for several minutes. There is no need to turn them over. They should look slightly brownish when done. Remove from the heat.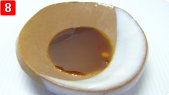 step 8:
To make the dipping sauce, mix all the ingredients in a bowl. Pour into shallow dishes. If you like your sauce a little hotter, add some Chinese chili oil (rāyu).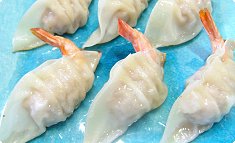 comment:
The shrimp tails make this dish colorful. The combination of meat and shrimp has a good taste.



Japanese foods recipes
Int'l. recipes with a Japanese twist