curry flavored fried rice
Serves: 2
Calories: 615 kcal
Total Time: 1 h 25 m
Japanese: Karē chā-han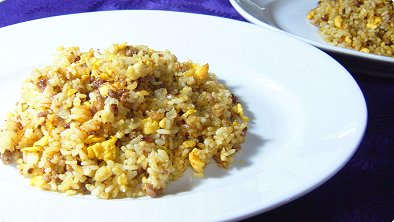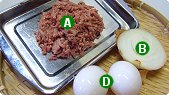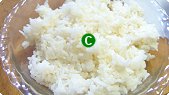 ingredients:
3 1/2 ounces ground pork or beef

2 1/2 ounces onion

2 eggs

1/2 tablespoon curry powder
1 tablespoon soy sauce
2 teaspoons soup stock powder (chicken, Chinese or bonito) (optional)
3 tablespoons salad oil
a little salt
a little pepper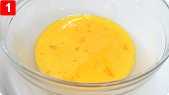 step 1:
Chop the onion. Beat the eggs in a bowl.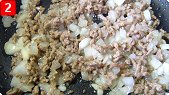 step 2:
Heat 1 tablespoon of the oil in a frying pan (or wok) and add the ground meat and onion. After the meat changes color and the chopped onions become clear, remove from the pan.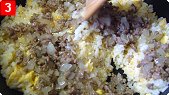 step 3:
In order to prevent the rice from becoming sticky, preheat the frying pan (or wok) without oil for 1 minute on high heat. Then, add the remaining 2 tablespoons of oil, the eggs and cold rice and mix. Cook for one minute on high heat. Add the meat and onion mixture, and mix while cooking for another minute.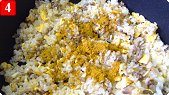 step 4:
Add the soup stock powder (optional), salt, pepper, soy sauce and curry powder, and stir on high heat for another minute.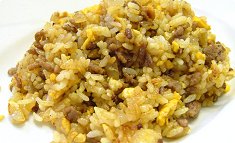 Serve in a dish.
comment:
This dish is very easy to make because it uses curry powder instead of curry blocks. It is a very delicious, spicy fried rice.



Japanese foods recipes
Int'l. recipes with a Japanese twist