okinawa-
s

tyle sauteed vegetables
Serves: 4
Calories: 289 kcal
Total Time: 45 m
Japanese: Yasai-champuru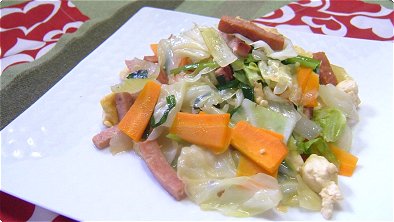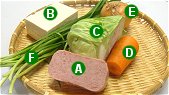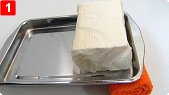 step 1:
In order to drain the water from the tofu, first wrap the tofu in a paper towel. Then put it on one side of the tray. Place a folded kitchen towel under the same side of the tray and lean the tray on it. Let it sit for about 30 to 60 minutes.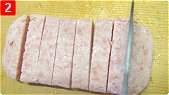 step 2:
Turn the spam onto its side and slice lengthwise into 4 equal slices. Next, slice across into 8 equal slices.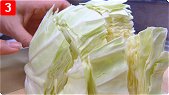 step 3:
Cut the cabbage into bite-size pieces.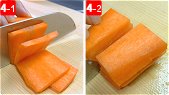 step 4:
Cut the carrot in half. Slice as shown in the pictures.
step 5:
Peel the onion and cut in half. Cut each half into 1 cm-wide slices.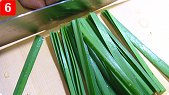 step 6:
Cut the nira (garlic chives) into 5 cm. pieces.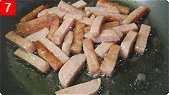 step 7:
Heat the salad oil in a frying pan. Sear the spam for a minute.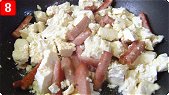 step 8:
Remove the paper towel from the tofu and, with your hands, tear it into small pieces. Add to the spam in the frying pan.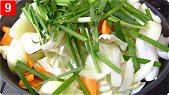 step 9:
When the tofu changes color, add the vegetables and saute for a few minutes over a high flame.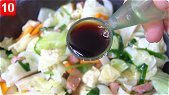 step 10:
Add the soy sauce and salt, and saute for 1 minute.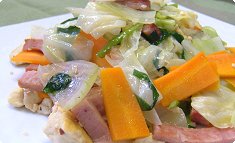 comment:
The Okinawa-style dish (yasai-champuru) using spam, tofu and sauteed vegetables is unique in Japan. "Champuru" in Okinawa dialect means "jumble." Okinawa is a small island and, being located about 645 km from the mainland, is the most southwest of prefectures in Japan.



Japanese foods recipes
Int'l. recipes with a Japanese twist