cold thin white noodles
Serves: 4
Calories: 308 kcal
Total Time: 3 h 20 m
Japanese: Sōmen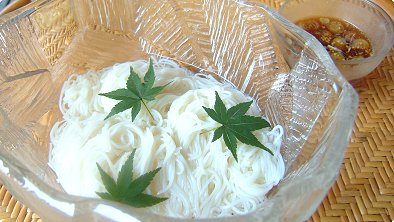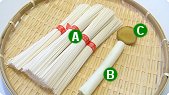 step 1:
To prepare the dipping sauce, first boil bonito & sea tangle (or bonito) soup stock. Add the the mirin (or sugar) and soy sauce. Bring to a boil. Reduce the heat and simmer for a couple of minutes. Chill a few hours.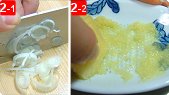 step 2:
Thinly slice the green onion (or leek). Grate ginger (optional).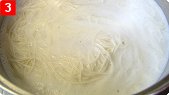 step 3:
Pour the water into a pan. Bring to a boil and add the dried thin white noodles (dried sōmen). Boil for 2 minutes, or follow the cooking instructions on the bag.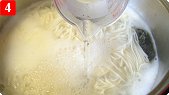 step 4:
Add a cup of cold water to the pan if the water starts to boil over. After boiling, drain the noodles in a colander and quickly run cold water over them.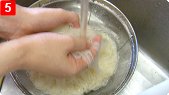 step 5:
Because too much starch and salt on the noodles can make them taste slimy, wash them with your hands under cold running water to remove any extra starch.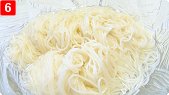 step 6:
Divide the noodles among 4 serving bowls and add 240 ml water to each bowl. If you like it more chilled, add a few ice cubes.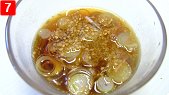 step 7:
Serve the dipping sauce separately in individual small bowls. The condiments are mixed into the dipping sauce to the individual diner's taste.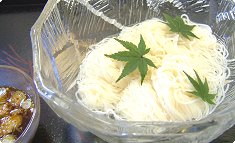 comment:
This dish is very popular in the hot season. Because sōmen are thin, they are easy to eat.



Japanese foods recipes
Int'l. recipes with a Japanese twist