fried spaghetti
w

ith ketchup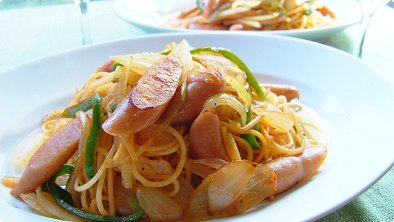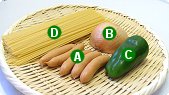 ingredients:
100 g sausage or sliced ham

1/2 (140 g) onion

1 (60 g) green pepper

200 g spaghetti

10 g butter
a little salt
a little pepper
4 1/2 tablespoons ketchup
2 liters water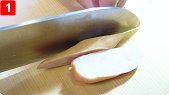 step 1:
Cut the sausage (or sliced ham) into bite-size pieces.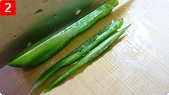 step 2:
Slice the onion into 0.5 cm. wide pieces. Remove seeds from the green pepper and slice into 0.5 cm wide pieces.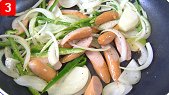 step 3:
Put the butter in a frying pan. Add the sausage (or sliced ham), onion and green pepper. Add the salt and pepper and stir for a couple of minutes and remove from the heat.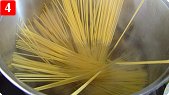 step 4:
Pour the water into a pan. Bring to a boil and add the spaghetti.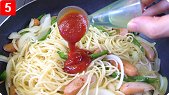 step 5:
Cook the spaghetti until done. Remove from pan and drain in a colander. Add the spaghetti and ketchup to the sausage (or sliced ham), onion and green pepper in the frying pan. Mix and cook for a few minutes. Remove from heat.
comment:
This spaghetti dish is an original Japanese dish and is very popular. Frying spaghetti with ketchup is a unique cooking manner. The dish, called Naporitan is named after the city of Naples in Italy, although it does not exist there and is unique to Japan.



Japanese foods recipes
Int'l. recipes with a Japanese twist