fried noodles
with

potato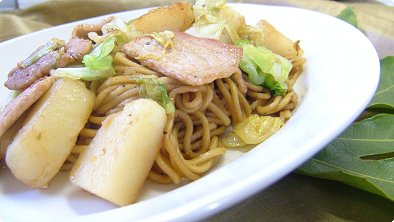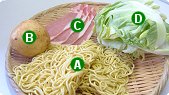 ingredients:
2 packages or 340 g fried noodles

200 g potato

100 g thinly sliced pork or sliced ham

170 g cabbage

3 1/2 tablespoons Worcestershire sauce
a little salt
a little pepper
1 tablespoon salad oil
1500 ml water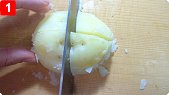 step 1:
Pour the water into a pan and add the potato. Boil for 30 minutes. After boiling, peel the potato. Cut it into 12 to 16 cubes.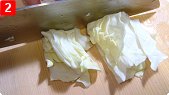 step 2:
Remove the core from the cabbage and cut the cabbage into bite–sized pieces.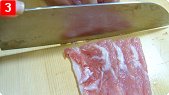 step 3:
Cut the pork (ham) into bite–sized pieces.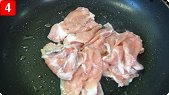 step 4:
Heat the salad oil in a frying pan and sear the pork (ham) on medium heat. Add the salt.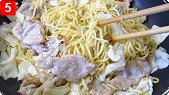 step 5:
After the pork changes color, add the fried noodles and cabbage. Saute and stir them for 3 minutes.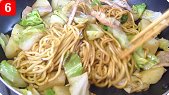 step 6:
Add the potato cubs, Worcestershire sauce and pepper. Saute and stir for 1 minute.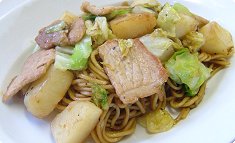 Serve in a dish.
comment:
The combination of fried noodles and potato is a unique dish and has a good taste. This dish is popular in Ashikaga City and Kiryu City. Ashikaga is in Tochigi Prefecture and Kiryu is in Gunma Prefecture. Both prefectures are next to each other. They are in the northeastern Kantō region located north of Tokyo.



Japanese foods recipes
Int'l. recipes with a Japanese twist