simmered sea bream
with

thin white noodles
Serves: 4
Calories: 483 kcal
Total Time: 55 m
Japanese: Tai-sōmen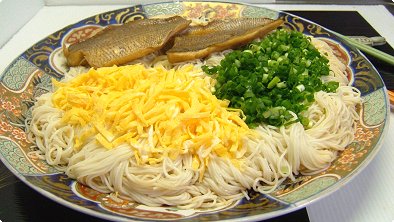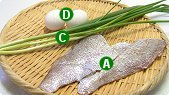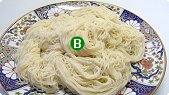 ingredients:
200 g raw sea bream filet

30 g scallions or chives

2 eggs

140 ml soy sauce
6 1/2 tablespoons sugar
960 ml water
1/2 tablespoon salad oil
a little salt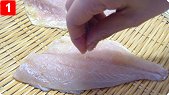 step 1:
Sprinkle the salt over the sea bream and leave for 15 minutes.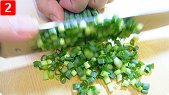 step 2:
Chop the scallions (or chives).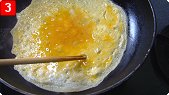 step 3:
Beat the eggs in a bowl. Add 1/2 tablespoon of the sugar. Coat a frying pan with a paper towel which has been soaked with salad oil. Place on low heat. With a ladle, pour some of the egg mixture into the frying pan and tilt it so that it spreads evenly over the bottom. Remove from pan when cooked and place on a cutting board. Repeat this process to make 1 or 2 paper-thin omelets. Stack them on top of each other on the cutting board.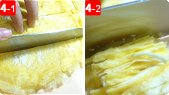 step 4:
Let them cool. Cut the stack into julienne slices.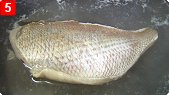 step 5:
Pour 480 ml of the water into a pan and bring to boil. Add the sea bream and immediately remove from the heat. Drain.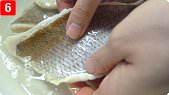 step 6:
Place the fish in a bowl and add enough water in order to wash it clean.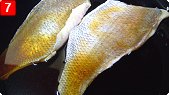 step 7:
Pour the remaining 480 ml of water into the pan. Add the cleaned sea bream, soy sauce and 6 tablespoons of sugar. Simmer on medium-low heat for 15 minutes.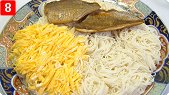 step 8:
Place the cooked thin white noodles (sōmen) on a serving dish. Add the fish, egg and scallions (or chives).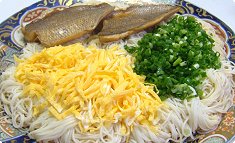 Pour a suitable amount of sea bream broth around the edge of the dish.
comment:
Tai-sōmen is a traditional dish cooked on celebrations such as weddings in Hiroshima, Okayama and Ehime prefectures in the Setouchi region of westen Japan. The combination of sea bream broth and sōmen has a delicious taste.



Japanese foods recipes
Int'l. recipes with a Japanese twist