pork & vegetable ramen
Serves: 2
Calories: 760 kcal
Total Time: 25 m
Japanese: Tan-men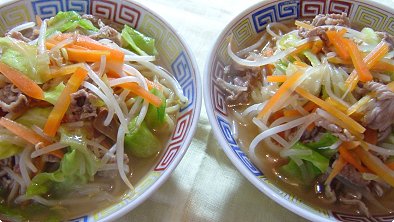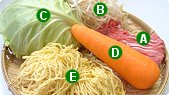 ingredients:
200 g thinly sliced belly or lean pork

200 g bean sprouts

170 g cabbage

140 g carrot

2 packages ramen noodles or

Chinese noodles

2 garlic cloves
600 ml Chinese soup stock or chicken broth
1 tablespoon salad oil
1 tablespoon salt
a little pepper
3 liters water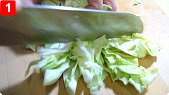 step 1:
Slice the garlic. Cut the cabbage into bite–sized pieces.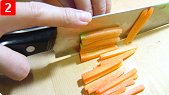 step 2:
Cut the carrot into julienne slices.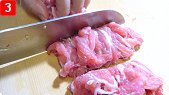 step 3:
Cut the pork into bite–sized pieces.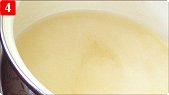 step 4:
Pour the Chinese soup stock (or chicken broth) into a pan and bring to a boil. Set aside.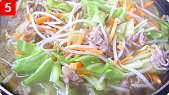 step 5:
Heat the salad oil in a frying pan. Sear the garlic and pork, and add the pepper and 1⁄2 tablespoon of salt. After the pork changes color, add the vegetables and the rest of the salt. Saute for a couple minutes over a high flame. Add the boiled Chinese soup stock (or chicken broth) (Step 4) to the frying pan and boil for 1 minute. Remove from the heat.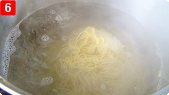 step 6:
Pour the water into a big pan. Bring to a boil. Add the ramen noodles (or Chinese noodles) to the boiling water. Boil for 1 to 4 minutes (follow the cooking instructions on the bag). After boiling, drain the noodles in a colander and quickly add to the serving bowls.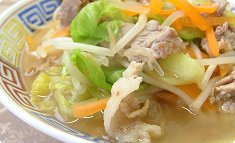 Place the pork and vegetables over the noodles and pour the soup over everything.
comment:
Tan-men originated in Japan. Tan-men is a well-balanced dish because it includes noodles, pork and various vegetables.



Japanese foods recipes
Int'l. recipes with a Japanese twist