salad
with

buckwheat noodles
Serves: 2
Calories: 434 kcal
Total Time: 30 m
Japanese: Sarada-soba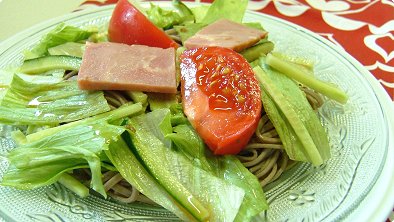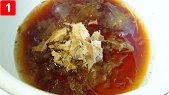 step 1:
To prepare the dipping sauce, first boil the mirin. Add the water, soy sauce and bonito flakes. Bring to a boil. Reduce the heat and simmer for a couple of minutes.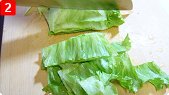 step 2:
Slice the lettuce across into 2 in. strips. Cut the cucumbers into julienne slices. Cut the tomato half into four pieces. Cut the ham slices in half.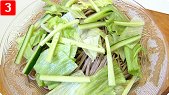 step 3:
Put the cooked buckwheat noodles on two plates. Over the top of each, place the lettuce, the cucumbers, the tomato and ham pieces. Sprinkle with salt. Pour the dipping sauce over each plate.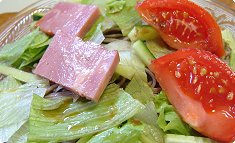 comment:
This is an unusual recipe because buckwheat noodles are seldom served with vegetables. Since it is so light, you can eat a lot of it.



Japanese foods recipes
Int'l. recipes with a Japanese twist