spaghetti
with

mentaiko sauce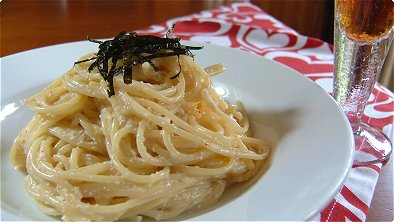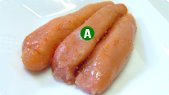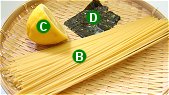 ingredients:
3 1/2 ounces karashi-mentaiko

7 ounces spaghetti

1 1/3 tablespoons freshly squeezed lemon

juice

suitable amount dried laver
1/3 ounce butter
4 tablespoons mayonnaise
1/5 cup milk
2 quarts water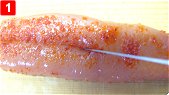 step 1:
Because mentaiko is covered by a thin film, cut the mentaiko in half lengthwise and take out the contents. Place in a bowl.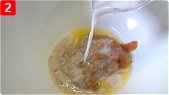 step 2:
Melt the butter in a microwave oven. Add the melted butter, mayonnaise, milk, freshly squeezed lemon juice to the mentaiko in the bowl and mix.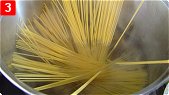 step 3:
Pour the water into a pan. Bring to a boil and add the spaghetti.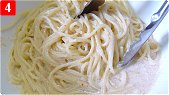 step 4:
Cook the spaghetti until done. Remove from pan and drain in a colander. Add the spaghetti to the sauce in the bowl and mix.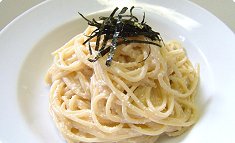 Cut the nori into slivers with scissors. Top with the nori slivers.
comment:
Once you eat this dish, you will want to eat it again. It has been made since the 1980's troughout Japan.



Japanese foods recipes
Int'l. recipes with a Japanese twist