spaghetti
with

long green onion & shimeji mushrooms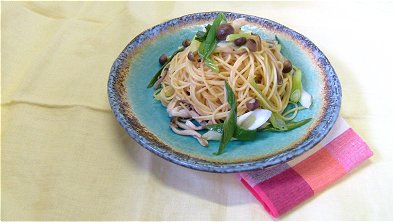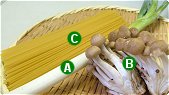 ingredients:
1 long green onion

3 1/2 ounces package shimeji

mushrooms

7 ounces spaghetti

1/2 tablespoon soy sauce
a little salt
1 tablespoon olive oil
2 quarts water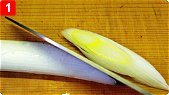 step 1:
Slice the long green onion diagonally.
step 2:
Cut off the roots of the shimeji mushrooms.
step 3:
Pour the water into a pan. Bring to a boil and add the spaghetti.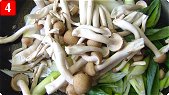 step 4:
Add the olive oil to a frying pan. Add the long green onion and shimeji mushrooms. Stir for a couple of minutes and remove from the heat.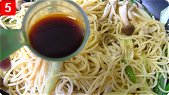 step 5:
Cook the spaghetti until done. Remove from pan and drain in a colander. Add the spaghetti to the frying pan and mix. Add the salt and soy sauce. Mix and cook for a few minutes. Remove from heat.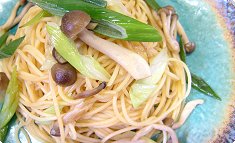 comment:
The long green onion flavor soaks into the spaghetti and all ingredients match well. This spaghetti dish is very delicious.



Japanese foods recipes
Int'l. recipes with a Japanese twist