thin white noodles
with

wakame seaweed & egg soup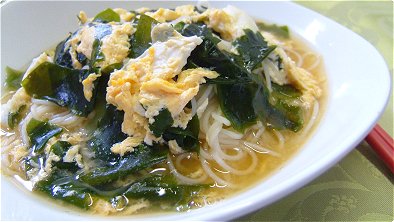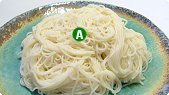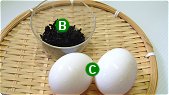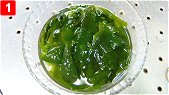 step 1:
Soak the dried wakame seaweed in water for about 15 minutes to reconstitute it. Drain the water. Beat the eggs in a bowl.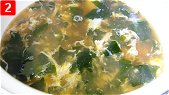 step 2:
Pour the bonito & sea tangle (or bonito) soup stock into a pan. Bring to a boil on medium heat and add the soy sauce, soaked wakame and egg. Cover the pan and boil for 30 seconds.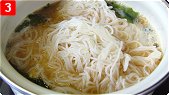 step 3:
Add the cooked thin white noodles and boil for a minute. Remove from heat.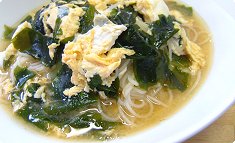 Serve in 2 big bowls.
comment:
Salty wakame suits thin white noodles and is delicious. Using eggs makes the soup mellow.



Japanese foods recipes
Int'l. recipes with a Japanese twist