spaghetti
with

tarako sauce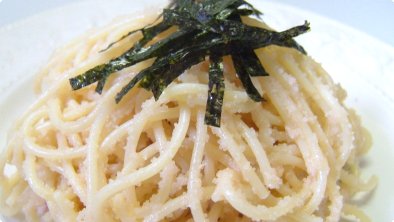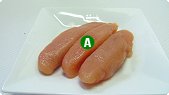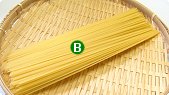 ingredients:
4 ounces tarako

7 ounces spaghetti

2 tablespoons butter
3/4 tablespoon kobucha (powdered sea tangle) and a pinch of salt (If kobucha is unavailable, use 1/2 teaspoon salt.)
1 tablespoon white wine vinegar or freshly squeezed lemon juice
3 1/2 in. × 4 in. dried laver (optional)
2 quarts water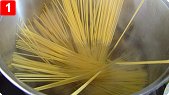 step 1:
Pour the water into a pan. Bring to a boil and add the spaghetti. Cook the spaghetti until done. Remove from pan and drain in a colander.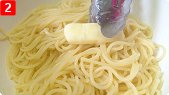 step 2:
Place the cooked spaghetti in a bowl. Add the butter and mix.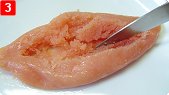 step 3:
Because tarako is covered by a thin film, cut the tarako in half lengthwise and take out the contents.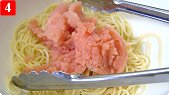 step 4:
Add the tarako, kobucha, salt and white wine vinegar (or freshly squeezed lemon juice) to the bowl. Mix and serve.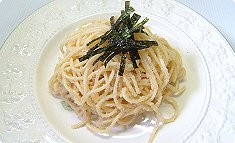 If you like, cut the nori into slivers with scissors. Top with the nori slivers.
comment:
This tarako sauce suits spaghetti and is very delicious. This dish is very popular in Japan.



Japanese foods recipes
Int'l. recipes with a Japanese twist