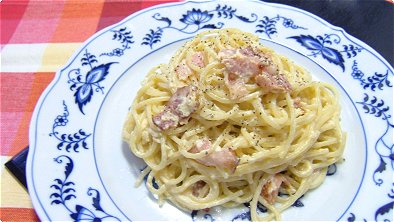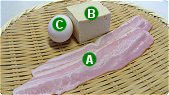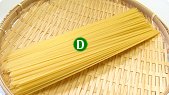 ingredients:
2 slices bacon

1/2 block of tofu

1 egg

7 ounces spaghetti

1 tablespoon grated Parmesan cheese
a little salt
1 tablespoon olive oil
a little black pepper (optional)
2 quarts water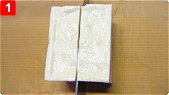 step 1:
Cut the tofu in half. Wrap each tofu half in a paper towel. Heat it in a microwave oven for 2 minutes to remove the water.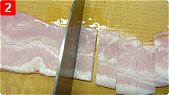 step 2:
Slice the bacon across into 1/2 in. strips.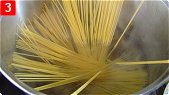 step 3:
Pour the water into a pan. Bring to a boil and add the spaghetti. Cook the spaghetti until done. Remove from pan and drain in a colander.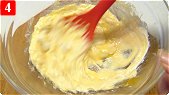 step 4:
Place the tofu, grated Parmesan cheese, olive oil and salt in a blender, and mix for 1 minute. Pour into a bowl. Add the egg and mix.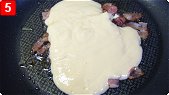 step 5:
Stir-fry the bacon for 3 minutes in a frying pan. Add the tofu mixture Step 4 and simmer on low heat for 30 seconds.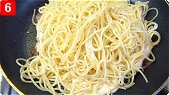 step 6:
Add the spaghetti to the sauce in the frying pan. Remove from heat. Mix and cook for 30 seconds.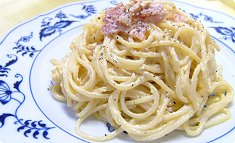 If desired, sprinkle with black pepper.
comment:
Because tofu is used instead of fresh cream, this dish is healthier than most carbonara recipes. The bacon and grated Parmesan cheese make it very delicious.



Japanese foods recipes
Int'l. recipes with a Japanese twist