okinawa-
s

tyle pancakes
Serves: 2
Calories: 497 kcal
Total Time: 25 m
Japanese: Hira-yāchī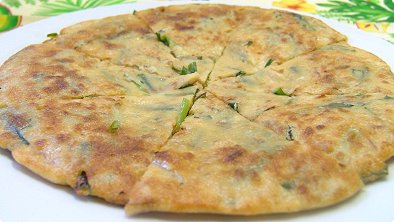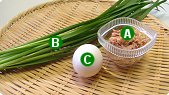 ingredients:
70 g canned tuna (without oil)

45 g nira (garlic chives) or 120 g onion

1 egg

115 g all-purpose flour, plain flour or cake flour
120 ml bonito soup stock or water
2 teaspoons oil
3 tablespoons soy sauce or Worcestershire sauce
suitable amount mayonnaise (optional)
suitable amount bonito flakes (optional)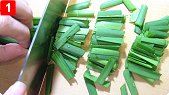 step 1:
Cut the nira (garlic chives) into 2.5 cm. pieces. If you use the onion, peel and slice thinly.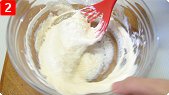 step 2:
Mix the flour and cold water or bonito soup stock.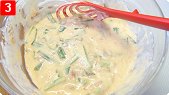 step 3:
Add the nira (garlic chives) or onion, the canned tuna and egg, and mix.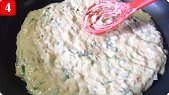 step 4:
Heat a medium-size frying pan on medium heat. Add the oil. Add half of the mixture (Step 3). Arrange in a circle. Push with a spatula and spread. Bake on medium heat about 6 minutes.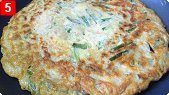 step 5:
Turn with a spatula and bake the other side on medium heat about 6 minutes.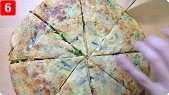 step 6:
Remove from the pan. Cut into eight pieces. If you like, spread mayonnaise and sprinkle bonito flakes on top.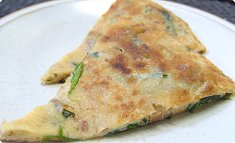 Pour the soy sauce (or Worcestershire sauce) over the top. Or dip the pancake into either sauce as you eat it.
comment:
This pancake is Okinawa-style okonomiyaki and is harder than other okonomiyaki. This pancake is a more substantial dish than it looks. Hira-yāchī reflects the Okinawa dialect. Hira means flatness and yāchī means bake.



Japanese foods recipes
Int'l. recipes with a Japanese twist