matcha quiche
Serves: 4
Calories: 703 kcal
Total Time: 50 m
Japanese: Matcha-kisshu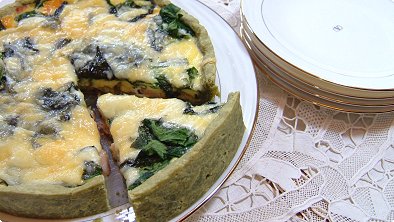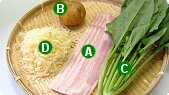 ingredients:
4 slices bacon

140 g potato

30 g spinach

100 g shredded Mozzarella cheese

1/2 tablespoon oil
2 eggs
80 ml milk
80 ml fresh cream
a little salt
a little pepper
10 g Parmesan cheese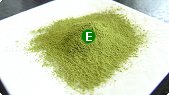 dough:
2 teaspoons matcha powder
150 g flour
80 g butter
1 egg yolk
2 tablespoons cold water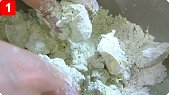 step 1:
To make the dough, mix the flour, matcha powder and the butter and knead. Add the egg yolk and cold water and mix.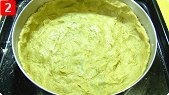 step 2:
Spread the dough out (Step 1) into a mold about 15 cm. in diameter.
step 3:
Cut the bacon slices into 8 equal portions. Peel the potato; slice them. Cut off the stems of the spinach and wash. Cut into 3 cm. long pieces.

Preheat the oven to 170 °C.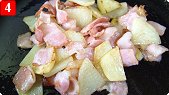 step 4:
Heat the oil in a frying pan on medium heat and fry the bacon strips and potato slices.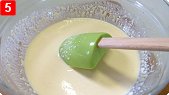 step 5:
Mix the eggs, fresh cream, milk, Parmesan cheese, salt and pepper in a bowl.
step 6:
Put the bacon strips and potato slices (Step 4) into the pan (Step 2).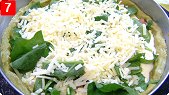 step 7:
Pour the liquid mixture (Step 5) into the pan and spread the spinach and the shredded Mozzarela cheese over it.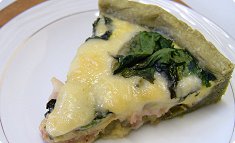 Bake in the oven 30 to 40 minutes.
comment:
The matcha powder gives the dough a very nice smell. This dish is very easy to cook and looks gorgeous. It is a good party dish.



Japanese foods recipes
Int'l. recipes with a Japanese twist