fried dumplings
Makes: 25
Calories: 53 kcal
Total Time: 1 h 35 m
Japanese: Yaki-gyōza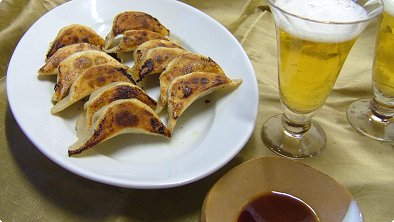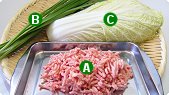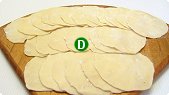 ingredients:
150 g ground pork

30 g nira (garlic chives)

85 g napa cabbage (Chinese cabbage)

or cabbage

1 teaspoon soy sauce
a little salt
a little pepper
1 tablespoon salad oil
120 ml water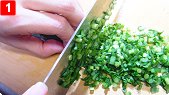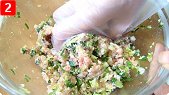 step 2:
Mix the ground pork, chopped vegetables, soy sauce, salt and pepper very well in a big bowl.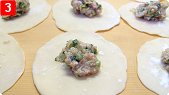 step 3:
If fresh dumpling wrappers are not easily available, refer to "How to Make Dumpling Wrappers". Place the 25 fresh dumpling wrappers on a large platter. Put a spoonful of the mixture on each wrapper.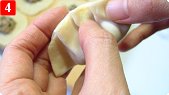 step 4:
Fold each wrapper over the mixture and, with your thumbs, make some folds on only one side of the wrapper.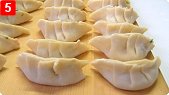 step 5:
This picture shows how the dumplings should look.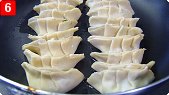 step 6:
Pour the salad oil into a frying pan or a portable electric griddle. Place the dumplings into this and gradually pour the water around (not directly over) them.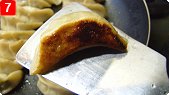 step 7:
Cover and sear over a high flame for several minutes. There is no need to turn them over. They should look slightly brownish when done. Remove from the heat.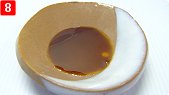 step 8:
Make the dipping sauce in a bowl and pour into shallow dishes. If you like your sauce a little hotter, add some Chinese chili oil (rāyu).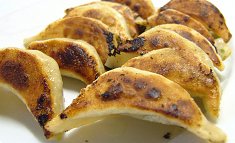 comment:
Folding the dumplings into a beautiful shape is difficult to do well for many people. This dish came from China. It is almost always boiled in China, but is often fried in Japan.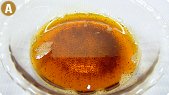 ingredients:
1 tablespoon red pepper powder
120 ml sesame oil or salad oil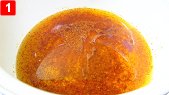 step 1:
Place the red pepper powder and sesame oil (or salad oil) in a pan. Heat for 4 to 5 minutes on low heat. Remove from the heat and cool down at room temperature.



Japanese foods recipes
Int'l. recipes with a Japanese twist