hokkaidō-
s

tyle pan-

b

roiled salmon & vegetables
Serves: 4
Calories: 473 kcal
Total Time: 20 m
Japanese: Chan-chan-yaki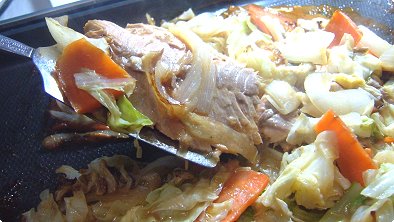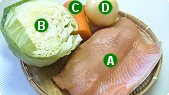 ingredients:
14 ounces or 4 pieces salmon

14 ounces cabbage

6 ounces carrot

8 ounces onion

2 tablespoons salad oil
1 1/2 ounces butter
Sauce:
5 tablespoons white miso
2 1/2 tablespoons sugar
2/5 cup sake or white wine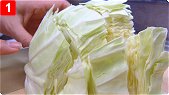 step 1:
Cut the cabbage into bite–sized pieces and wash.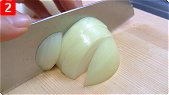 step 2:
Peel the onion and cut in half. Cut each half into 1/2 in. wide slices.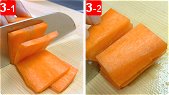 step 3:
Cut the carrot in half. Slice as shown in the pictures.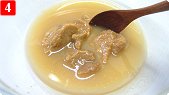 step 4:
Mix the miso, sugar and sake (or white wine) in a bowl.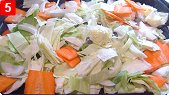 step 5:
Heat the salad oil in a portable electric griddle, BBQ griddle pan or frying pan over a high-medium flame. Add the salmon and the vegetables.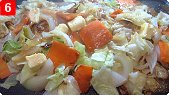 step 6:
Cover and broil for about 10 minutes. Add the sauce and butter. Broil for 2 minutes.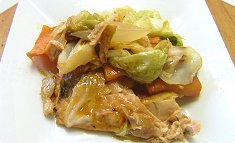 comment:
The miso sauce suits the salmon and vegetables, and is very delicious. This dish originated from some fishermen, and is very popular in Hokkaidō, the northernmost island of Japan.



Japanese foods recipes
Int'l. recipes with a Japanese twist