japanese-
s

tyle salmon baked

with

red miso

in

foil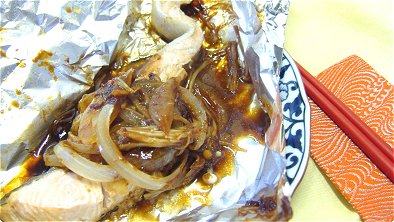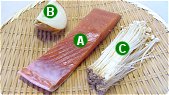 ingredients:
7 ounces or 2 fillets of salmon

2 1/2 ounces onion

1 1/3 ounces enoki (snow puff)

3 ounces shiitake mushrooms (optional)
2 tablespoons red miso
2 tablespoons sugar
2 tablespoons sake
2/3 ounce butter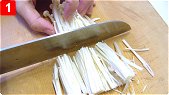 step 1:
Wipe the shiitake mushrooms (optional) with a wet paper towel. Cut off the stems and slice the caps. Cut off the roots of the enoki mushrooms 1 in. from the end and cut in half. Thinly slice the onion.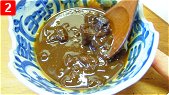 step 2:
Mix the miso, sugar and sake in a dish.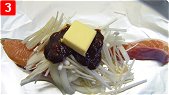 step 3:
Wrap the salmon, the onion, mushrooms, 2 tablespoons miso mixture and the butter in aluminium foil.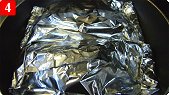 step 4:
Put the wrapped salmon in a frying pan and cover and cook on medium heat for 15 minutes. Remove from the pan and place on a serving plate. Open the foil and stir the mix miso mixture and ingredients.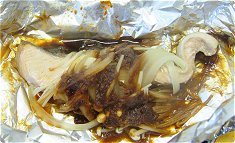 comment:
All ingredients and miso mixture are soaked with butter and the taste becomes mellow. This dish is very delicious.



Japanese foods recipes
Int'l. recipes with a Japanese twist