mixture
of

shrimps & avocado tempura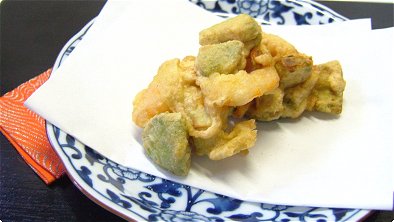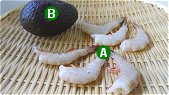 ingredients:
6 shrimps or prawns

1 ripe avocado

a little salt
salad oil for deep frying
coating:
1 egg
2 tablespoons cold water
3 tablespoons flour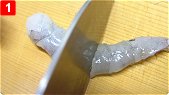 step 1:
Hull the shell and tail of the shrimps and devein them. Cut in half.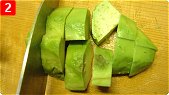 step 2:
Cut the avocado in half lengthwise and remove the pit. Peel the two halves. Once more, cut each half in half lengthwise. Cut each piece into 1/2 in. wide slices.
step 3:
To make the coating, mix the egg and cold water in a bowl. Add the flour and toss with chopsticks.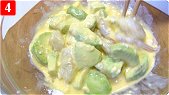 step 4:
Add the shrimps and avocado. Stir several times.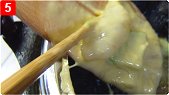 step 5:
Heat the oil to 340°F. Put the shrimps and avocado mixture on a wooden spatula.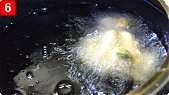 step 6:
With chopsticks, slide the mixture into the oil.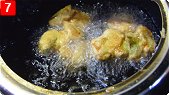 step 7:
Deep-fry a couple of minutes. Turn over and deep-fry the same amount of time.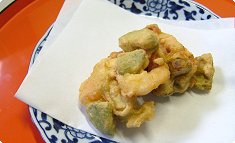 Sprinkle salt over the tempura.
comment:
The texture of this dish is an interesting combination because of the crunchy shrimps and smooth avocado. The salt, makes the shrimps and avocado taste even stronger.



Japanese foods recipes
Int'l. recipes with a Japanese twist