deep-
f

ried breaded oysters
Serves: 2
Calories: 392 kcal
Total Time: 15 m
Japanese: Kaki-furai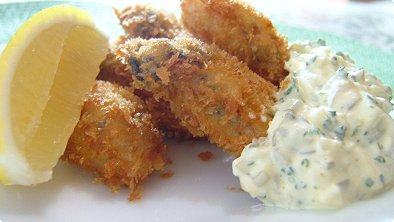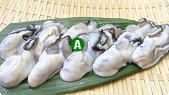 ingredients:
10 raw oysters

a little salt and pepper
2 cups salad oil for deep frying
suitable amount Worcestershire sauce
2 lemon wedges for garnish
batter:
1/2 ounce flour
1 egg
1 ounce bread crumbs
tartar sauce (
optional

):
5 tablespoons mayonnaise
1 boiled egg
1 1/3 ounces pickles
1/3 ounce parsley
1 teaspoon white wine vinegar or freshly squeezed lemon juice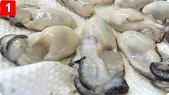 step 1:
Wash the oysters and wipe dry with a paper towel. Sprinkle with the salt and pepper.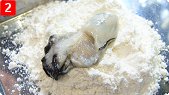 step 2:
Lightly coat the oysters with the flour in a pan.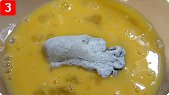 step 3:
Beat the egg in a bowl and coat the oysters with the egg.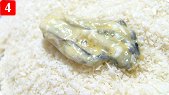 step 4:
Then coat well with the bread crumbs in a separate pan.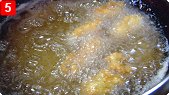 step 5:
Heat the oil to 340 °F on medium heat and deep-fry the oysters 1 minute 30 seconds until golden brown. Remove and drain on a rack, and serve.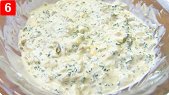 step 6:
If you like, make the tartar sauce. Chop the boiled egg, pickles and parsley. Mix them with the mayonnaise and white wine vinegar (or freshly squeezed lemon juice) in a bowl.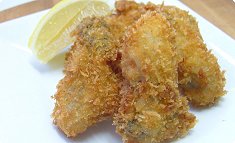 Pour the Worcestershire sauce or tartar sauce over the oysters, and garnish with the lemon wedges.
comment:
This dish has been very popular since it was first served at a Japanese restaurant about 100 years ago. It is cooked not only in restaurants, but also at home. Deep-fried oysters are more popular than raw oysters in Japan. Deep-fried oysters have a unique taste.



Japanese foods recipes
Int'l. recipes with a Japanese twist