tuna simmered
in

soy sauce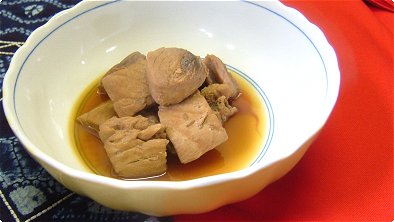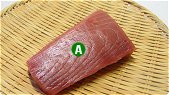 ingredients:
10 1/2 ounces raw tuna

3 1/2 cups water
2 tablespoons soy sauce
2 1/2 tablespoons sugar
1/2 cup sake or white wine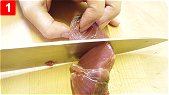 step 1:
Cut the tuna into bite-size pieces.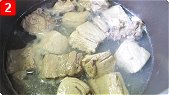 step 2:
Pour 1 cup of the water into a pan and bring to a boil. Add the tuna and remove from the heat after the tuna changes color.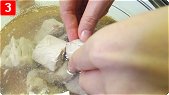 step 3:
Drain. Put the tuna into a bowl filled with 2 cups of the water. Clean any scum off the tuna.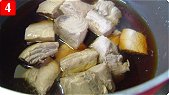 step 4:
Pour the sake (or white wine) and the remaining 1/2 cup of water into the pan. Add the sugar, soy sauce and tuna. Put some aluminum foil over the tuna inside the pan. Simmer on medium-low heat for about 30 minutes.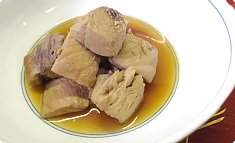 comment:
This dish using soy sauce and alcohol highly reduces the fish smell. The dish is best served with Japanese sake or shōchū and steamed rice.


Japanese foods recipes
Int'l. recipes with a Japanese twist