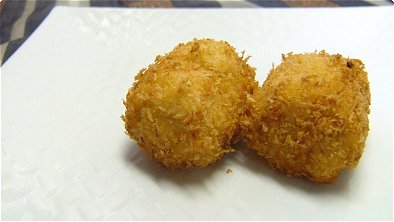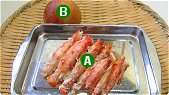 ingredients:
150 g boiled crab meat

120 g onion

a little salt and pepper
1 tablespoon butter for searing onion
45 g butter
240 ml hot milk
4 tablespoons flour
batter:
30 g flour
1 egg
60 g bread crumbs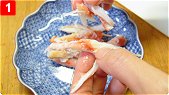 step 1:
Slice the onion. Split the crab meat into strips by hand.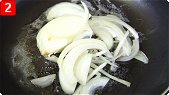 step 2:
Heat the 1 tablespoon of butter in a frying pan over a low flame and sear the onion. After it becomes clear, remove from the heat.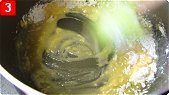 step 3:
Heat the 45 g of butter in a pot over a very low flame and melt. Add the 4 tablespoons flour and stir with a spatula.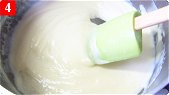 step 4:
Add half of the milk and stir well with a spatula until the flour is no longer visible. Add the remaining milk and stir very well, making sure the flour does not become lumpy.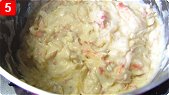 step 5:
Add the onion, crab meat, salt and pepper. Stir well and remove from the heat.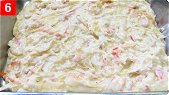 step 6:
Pour the mixture into a stainless steel tray and cover. Let this mixture cool down. Put it in the refrigerator and chill for 1 hour.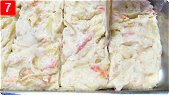 step 7:
Remove from the refrigerator. Form into 8 cylindrical patties.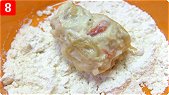 step 8:
Lightly coat the patties with the flour in a pan.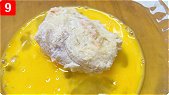 step 9:
Beat the egg in a bowl and coat the patties with the egg.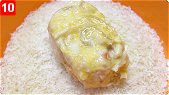 step 10:
Then coat well with the bread crumbs in a separate pan.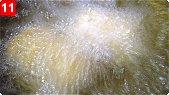 step 11:
Heat the oil to 170 °C and deep-fry the patties 1 to 1 1/2 minutes until golden brown.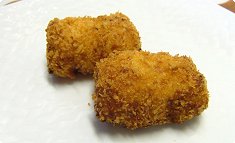 Serve and, if you desire, sprinkle a little salt on top.
comment:
This croquette is one of the most standard Japanese croquettes. The combination of crab and white cream sauce has a refined taste.



Japanese foods recipes
Int'l. recipes with a Japanese twist