matcha swiss roll
Makes: 28 cm. × 30 cm. × 3 cm. cake
Calories: 1261 kcal/cake log
Total Time: 2 h 10 m
Japanese: matcha-rōru-kēki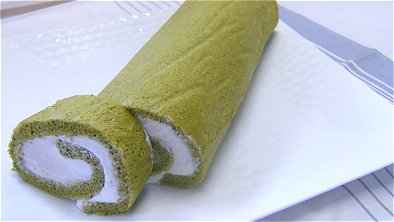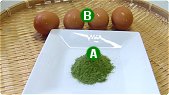 ingredients:
1 tablespoon matcha powder

4 eggs (separated into whites and yolks)

60 g cake flour
70 g sugar
200 ml fresh cream
60 ml hot water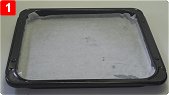 step 1:
Spread wax paper on the bottom of a 28 cm. × 30 cm. × 3 cm. baking pan.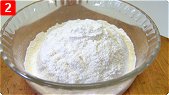 step 2:
Sift the flour into a small bowl.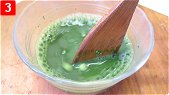 step 3:
Put the matcha powder into another bowl and add the hot water. Stir until the matcha powder is dissolved.
step 4:
Beat the egg whites and 15 g of the sugar with an electric whisk on medium in a bowl. Add 15 g more of the sugar and beat on medium for about 5 minutes.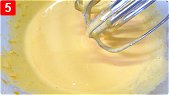 step 5:
Beat the yolks and 30 g of the sugar with an electric whisk on medium in another bowl for 3 minutes.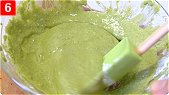 step 6:
Preheat the oven to 180 °C. Add the dissolved matcha into the bowl with egg yolks (Step 5) and mix with a spatula. Add the sifted flour and mix well until the flour is no longer visible. Mix carefully from the bottom, being sure to maintain the fluffiness.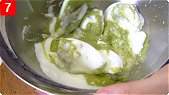 step 7:
Add 1/3 of the egg yolks mixture (Step 6) into the egg white mixture (Step 4) and mix carefully with a spatula from the bottom, again being sure to maintain the fluffiness. Fold the remaining mixture into the bowl in thirds in the same manner.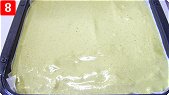 step 8:
Pour the mixture into the baking pan. In order to remove any air bubbles, drop the baking pan onto a solid surface three times. Bake in the oven at 180 °C for 12 minutes.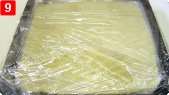 step 9:
After baking, cover the pan with some plastic wrap while still warm. Let it cool down for 30 minutes. Flip the baking pan over to remove the cake. Remove the wax paper from the bottom of the cake and place sticky side up on a flat surface. Place the cake on the wax paper and remove the plastic wrap.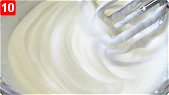 step 10:
Beat the fresh cream the remaining 10 g of sugar with an electric whisk on high for about 6 minutes in a bowl.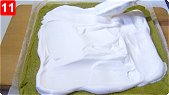 step 11:
Spread the whipped cream over the surface of the cake.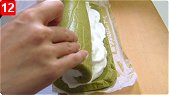 step 12:
Roll the cake. Wrap the cake in wax paper and chill for 1 hour in the refrigerator.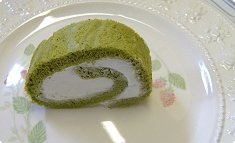 comment:
The matcha flavor dough is very soft and goes well with whipped cream. It is very simple and delicious.



Japanese foods recipes
Int'l. recipes with a Japanese twist