dumplings
with

mashed sweetened red bean paste
Serves: 2
Calories: 142 kcal
Total Time: 1 h 35 m
Japanese: Anko-dango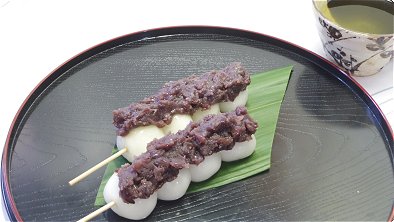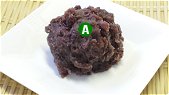 ingredients:
70 g rice flour
60 ml 40 °C hot water
800 ml water for boiling
1 tablespoon sugar
2 wood skewers (15-cm.)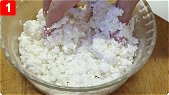 step 1:
Put the rice flour and sugar in a bowl and, little by little, mix in the 60 ml hot water (follow the cooking instructions on the bag). Form into 8 (about 3-cm) dumpling balls.
step 2:
Pour the 800 ml of water into a pan. Bring to a boil and add the dumpling balls. When they float back up to the top of the pan, continue boiling them for 1 minute.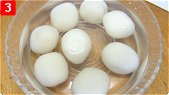 step 3:
Remove the dumplings from the pan and place into a bowl of cold water for a few minutes. Remove from the water.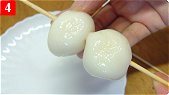 step 4:
Insert a 15-cm. wood skewer through 4 balls to form one anko dango. Repeat.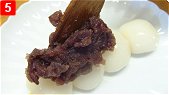 step 5:
Spread the mashed sweetened red bean paste over the dumplings.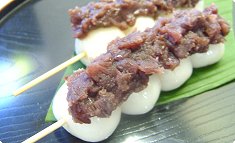 comment:
Dango (dumplings) can be served with various toppings (such as sweetened soy sauce, black sesame paste and anko). This recipe using anko is very delicious.



Japanese foods recipes
Int'l. recipes with a Japanese twist