matcha cheese souffle
Makes: 7 cups
(7.5 cm. diameter × 4 cm. height souffle cup)
Calories: 203 kcal
Total Time: 50 m
Japanese: Matcha chīzu sufure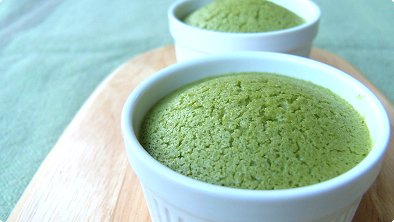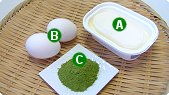 ingredients:
200 g cream cheese

2 eggs

1 1/2 tablespoons matcha powder
40 g cake flour
45 g sugar
100 ml milk
20 g softened unsalted butter
1.5 liters 80 °C hot water
step 1:
Separate the egg yolks from the white. Sift the flour and the matcha powder and set aside.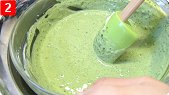 step 2:
Put the cream cheese and butter in a bowl and mix with an electric whisk on medium for about 2 minutes until creamy. In a separate bowl, beat the yolks with an electric whisk for 30 seconds and pour into the cream cheese and butter mixture. Add the milk little by little and mix with a spatula. Over a large bowl of hot water, add the sifted flour and matcha powder to the mixture. Stir until very creamy.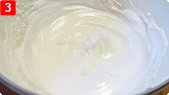 step 3:
Preheat the oven to 160 °C. Beat the egg whites with an electric whisk on high for about 2 minutes in another bowl. Add half of the sugar and keep mixing for 2 minutes. Add the remaining sugar and keep mixing one more minute.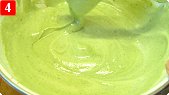 step 4:
Add the matcha cream cheese mixture and mix well.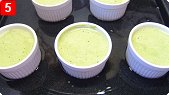 step 5:
Pour the mixture into 7 ceramic baking cups. Put them on a baking pan and pour a little hot water around the cups. Bake in the oven at 160 °C for 30 minutes.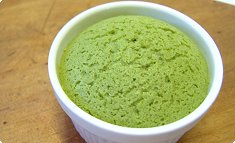 comment:
This dessert is very fluffy and delicious. Matcha suits cream cheese well.



Japanese foods recipes
Int'l. recipes with a Japanese twist