castella
Makes: 20 cm. × 7 cm. × 6 cm. castella
Calories: 940 kcal/cake log
Total Time: 1 d 50 m
Japanese: Kasutera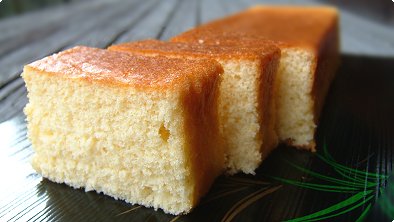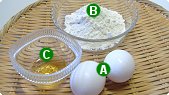 ingredients:
2 eggs

75 g bread flour

80 g sugar
1 tablespoon honey
2 tablespoons milk
1 tablespoon salad oil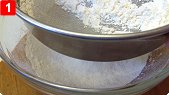 step 1:
Spread wax paper in a cake pan (20 cm. × 7 cm. × 6 cm.). Sift the flour and set aside. Mix the milk and the honey. Heat it. Preheat the oven to 180 °C.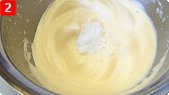 step 2:
Beat the eggs with an electric whisk on high for about 6 minutes until very creamy and fluffy in a bowl. Add 1/3 of the sugar to the mixture and continue mixing. Add the remaining sugar into the mixture in thirds and mix in the same manner. After all the sugar is mixed in, switch to low and beat for 1 more minute.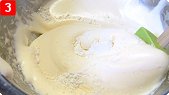 step 3:
Add 1/3 of the sifted flour to the mixture and mix well with a spatula until the flour is no longer visible. Mix carefully from the bottom being sure to maintain the fluffiness. Fold the remaining flour into the mixture in thirds in the same manner. Stir the milk and honey mixture little by little into the creamy mixture. Carefully stir in the salad oil and mix for 1 minute longer.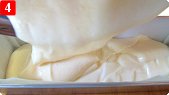 step 4:
Pour the mixture into a cake pan. In order to remove any air bubbles, drop the cake pan onto a solid surface three times. Bake in the oven at 180 °C for 10 minutes. Then reduce heat to 150 °C and bake for 20 more minutes. Remove from the oven.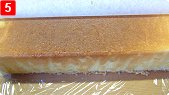 step 5:
Put some plastic wrap on a board. Flip the cake pan over to remove the cake. Remove the wax paper from the bottom of the cake and wrap the cake in the plastic wrap while hot. Leave upside down overnight at room temperature to enhance the flavor. (You can keep it for three days at room temperature.)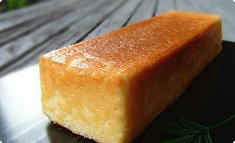 comment:
Castella developed independently in Japan based on a confection adopted from the Portuguese when they lived in Nagasaki Prefecture in the 16th century. It is very soft and, after setting for one day, the sweetness increases. It is very delicious.



Japanese foods recipes
Int'l. recipes with a Japanese twist