fried eggs
with

garlic chives
Serves: 2
Calories: 226 kcal
Total Time: 10 m
Japanese: Nira-tama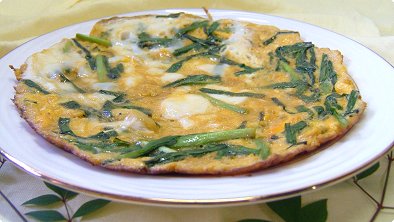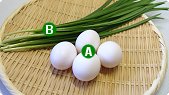 ingredients:
4 eggs

1 1/3 ounces nira (garlic chives)
1/2 tablespoon soy sauce
a little salt
a little pepper
1 tablespoon salad oil
1/2 tablespoon sesame oil (optional)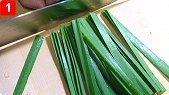 step 1:
Beat the eggs. Cut the nira (garlic chives) into 2 in. pieces.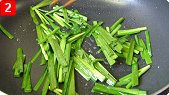 step 2:
Heat the salad oil on high heat in a frying pan and add the nira (garlic chives). Stir and add the salt, pepper and soy sauce.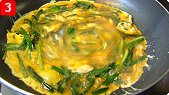 step 3:
Add the eggs and fry for a couple of minutes. If you desire, add the sesame oil for flavor. Remove from the heat.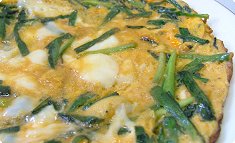 comment:
This dish is Chinese, but it is very popular in Japan and the recipe is different in each home.



Japanese foods recipes
Int'l. recipes with a Japanese twist