boiled egg
with

soy sauce
Serves: 4
Calories: 108 kcal
Total Time: 55 m
Japanese: Ni-tamago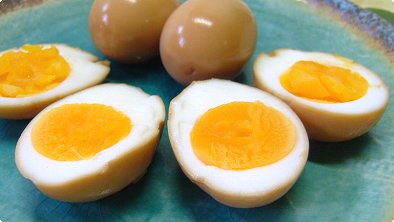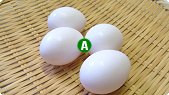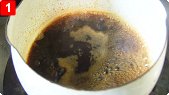 step 1:
Add the soy sauce, 1/2 cup water (or bonito soup stock) and sugar to a saucepan. Mix and bring to a boil. Remove from the heat and cool.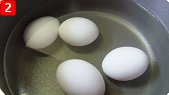 step 2:
Pour the 1 quart water into a pan and add the eggs. Boil the eggs on medium heat for 15 minutes (10 to 12 minutes if you like creamy yolks). Remove the boiled eggs from the pan and shell them.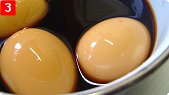 step 3:
Pour the cooled soy sauce mixture into a container or plastic bag for cooking. Add the eggs and chill for 30 minutes to 1 hour in the refrigerator.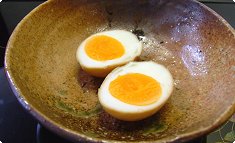 comment:
Eggs seasoned with soy sauce are very testy. They are often used as a ramen topping.



Int'l. recipes with a Japanese twist