sponge cake
Makes: 7 in. diameter × 1 1/2 in. height cake
Calories: 1001 kcal
Total Time: 45 m
Japanese: Sponji-kēki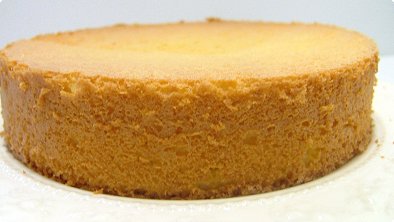 ingredients:
3 eggs
3 1/2 ounces sugar
1 ounce unsalted butter
4 ounces cake flour
1 1/2 quarts 176 °F hot water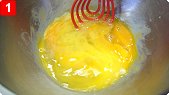 step 1:
Sift the flour twice and set aside. Beat the eggs in a bowl. Add the sugar and mix. Pour the hot water into a large bowl. Place the butter in a separate pan. Put this pan over the large bowl to melt the butter.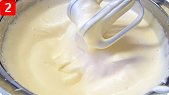 step 2:
Remove the pan with the melted butter. Next, place the bowl with the egg and sugar mixture over the same large bowl of hot water. Beat with an electric whisk on high for about 6 minutes until very creamy and fluffy. Switch to low and beat for 1 more minute.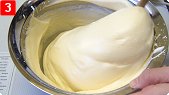 step 3:
Preheat the oven to 340 °C. Add 1/3 of the sifted flour to the mixture and mix well until the flour is no longer visible. Mix carefully with a spatula from the bottom being sure to maintain the fluffiness. Fold the remaining flour into the mixture in thirds in the same manner. Pour the melted butter onto the spatula and fold into the creamy mixture. Stir carefully for 1 minute longer.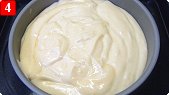 step 4:
Pour the mixture into a cake pan (7 in. diameter × 2 in. height). In order to remove any air bubbles, drop the cake pan onto a solid surface five times. Bake in the oven at 340 °F for 25 to 30 minutes.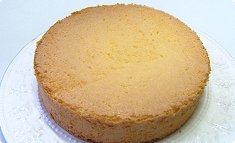 comment:
This cake is often used in Japan. Its soft texture is its special characteristic. The cake is almost always decorated with fruit and whipped cream.



Japanese foods recipes
Int'l. recipes with a Japanese twist