mushroom one-
p

ot

with

red miso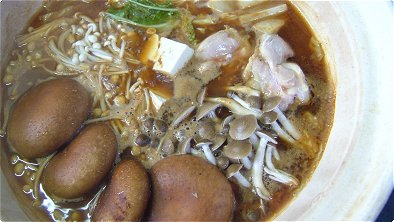 In Japan, most one-pot dishes are prepared at the table in an electric one-pot cooker. When the ingredients are ready to eat, each person serves himself or herself from the pot. Then the remaining ingredients are gradually added and cooked in the same manner.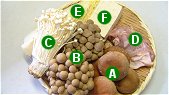 ingredients:
7 ounces shiitake mushrooms

9 ounces package shimeji mushrooms

7 ounces enoki (snow puff)

7 ounces boneless chicken

10 1/2 ounces napa cabbage

(Chinese cabbage)

1 block tofu
3 tablespoons red miso
1 1/2 tablespoons sugar
3 1/3 cups bonito soup stock
You can also add your favorite ingredients such as carrots, mushrooms, konnyaku, cooked thick white noodles (udon), instant noodles.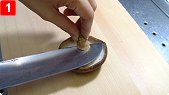 step 1:
Wipe the shiitake mushrooms with a wet paper towel. Cut off the stems and slice the caps. Cut off the roots of the enoki mushrooms 1 in. from the end and cut in half. Cut off the roots of the shimeji mushrooms.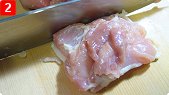 step 2:
Cut the chicken into bite-size pieces.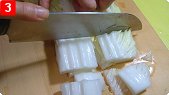 step 3:
Cut the napa cabbage (Chinese cabbage) into bite-sized pieces.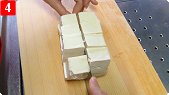 step 4:
Cut the tofu block in half lengthwise, then cut each half across 3 times. Finally, place the knife halfway down the side of the block and slice across to form 16 bite-size pieces.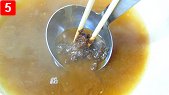 step 5:
Boil the bonito soup stock. After boiling, add the sugar. Put some stock into a ladle. Add the miso and stir with chopsticks until it is dissolved. Stir into the soup.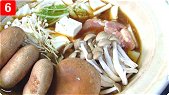 step 6:
Add half of the chicken, napa cabbage, mushrooms and tofu and any other ingredients into the soup. Cover and cook for 10 minutes.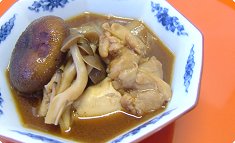 comment:
Because this dish is very light, you can eat a lot. The umami of the soup increases by using the chicken and the different types of mushrooms. It is a very delicious dish.



Japanese foods recipes
Int'l. recipes with a Japanese twist