chicken meatballs pot dish
Serves: 2
Calories: 368 kcal
Total Time: 1 h 0 m
Japanese: Tsukune-nabe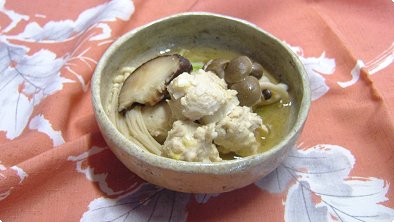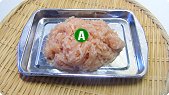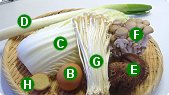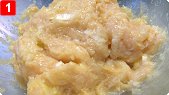 step 1:
Thinly slice half of the green onion (or leek) as shown. If used, grate the slices ginger. Mix the ground chicken, egg, the leek slices and grated ginger (optional) in a bowl. Form into 24 (1-in.) balls.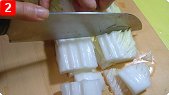 step 2:
Cut the napa cabbage (Chinese cabbage) into bite–sized pieces. Slice the remaining half of the green onion (or leek) diagonally into 2 in. pieces.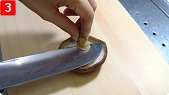 step 3:
Wipe the shiitake mushrooms with a wet paper towel. Cut off the stems and cut the caps in half. Cut off the roots of the shimeji mushrooms. Cut off the roots of the enoki mushrooms 1 in. from the end and cut in half.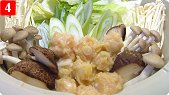 step 4:
Add the 2 1/8 cups sea tangle soup stock to a pan and boil. Add the mirin (or sugar), salt and soy sauce. Bring to a boil. Add a small amount of each type of mushroom, the chicken meatballs and vegetables. Cover and cook for about 7 minutes.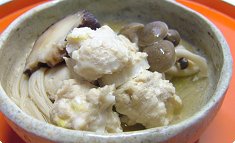 Let everyone start to help themselves to whatever they want. Then cook the remaining meat and vegetables in the same manner. (If needed, add the remaining/more soy sauce.)
comment:
This dish warms you up in the cold seasons. Because it uses chicken and lots of vegetables, it is very low colorie.



Japanese foods recipes
Int'l. recipes with a Japanese twist