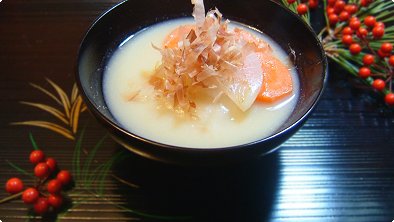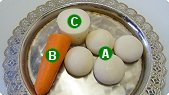 step 1:
Peel the carrot and cut into 1/4 in. slices.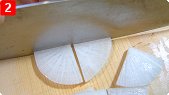 step 2:
Peel the Japanese radish. Cut it into 1/4 in. slices; then cut into quarters.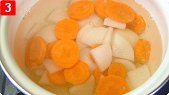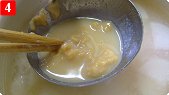 step 4:
After boiling, put some stock into a ladle. Add the white miso tablespoon by tablespoon and stir with chopsticks until dissolved. Stir into the soup. Remove from heat.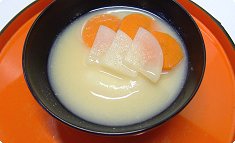 Sprinkle with the bonito flakes (optional).
comment:
This is Kansai-style ozōni. Ozōni is eaten on the first 3 days of the New Year holidays. Circular rice cake and white miso are almost always used in Kansai-style ozōni. Kansai includes Osaka, Kyoto, Nara, Hyōgo, Shiga and Wakayama prefectures. (For ozōni recipes from other area of Japan, refer to the ozōni listing in the Typical Meals section.)