Japanese Food Tips
The Best Season - The Most Common Apple Produced in The World is Fuji!
December 4, 2017
Fuji apples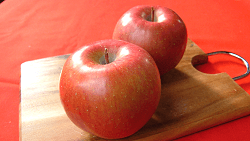 Cut Fuji apple
Early-ripening variety of Fuji apple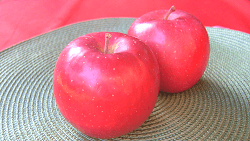 I thought that apples eaten in Japan would be similar to apples eaten in other countries, but I tried to find out if there were differences. Apples that are currently eaten in Japan seem to have originated in Europe and then entered Japan through the United States. Currently, Aomori Prefecture (the northernmost of the main island) produces 60% of the volume of apples in Japan. Among them, the variety named Fuji is the most popular. The Fuji apple is named after both Fujisaki Town in Aomori Prefecture and Mt. Fuji. A Fuji apple is about 300 to 400 g in size. The skin is thin and the apple is sweet and crispy. A usual characteristic is that the core contains honey. Although I knew the Fuji apple was exported from Japan, I had no idea it was also the most widely produced worldwide. Because it accounts for about 50% of world production, there may be many people eating a Fuji apple without knowing it. I do not know if the taste is somewhat different depending on the country where it is produced, but maybe the next time you eat an apple you should think about whether or not it's a Fuji.